Discovered by CorvetteBlogger and cross posted here.
Photo Credit: Bathurst Motor Group / Facebook
Originally posted by CorvetteBlogger
Prices for the 2023 Corvette Stingray are Going Up by $15,000 in Australia
By
Mitch Talley
:
Jun 2, 2022
If you thought the recent $1,000 price increase on the 2023 Corvette in the United States was high, just be glad you're not having to take delivery of a new mid-engine Stingray in
Australia
.
General Motors Specialty Vehicles (GMSV) – which is handling sales there – just announced an increase of $15,000 across the board on 2023 Corvettes in The Land Down Under.

The hike means prices in Australia will start at $160,000 for a 2LT coupe and head upwards to $175,000 for a 2LT convertible or a 3LT coupe and $190,000 for a 3LT convertible – excluding registration, stamp duty, and dealer delivery fees that reportedly have ranged anywhere from $5,000 to $25,000 per car.
"GM has seen the invoice prices customers have been prepared to pay in Australia," one dealer explained to drive.com, "and decided to help themselves to a greater portion of that."
GMSV, for its part, insists the increases are the unfortunate result of supply-chain restrictions and economic price increases, such as exchange rate fluctuations in the value of Australian and U.S. dollars.

The old law of supply and demand could also be playing a role as each of the 55 GMSV dealers in Australia has been allocated only four Corvettes over the past 18 months. The latest allocation will send just two Corvettes to each dealer later this year and early next year.

Meanwhile, demand is still soaring for the award-winning Corvette, with Drive being told that some Australian dealers have more than 50 customers on their waiting lists, resulting in wait times of more than two years to take delivery.
Industry experts say customers, unfortunately, have little alternative than to shop around if they don't like the price they've been quoted, but with supplies of the hot new car still very limited, they don't really have much bargaining power, Drive reports.

The good news is a GMSV spokesperson predicts vehicle allocations for Australia will rise with subsequent batches, with the company promising "smaller, more frequent dealer allocations."

"This will mean there is greater visibility on production timing along with the opportunity for customers to personalize elements of their vehicle," GMSV said in a statement.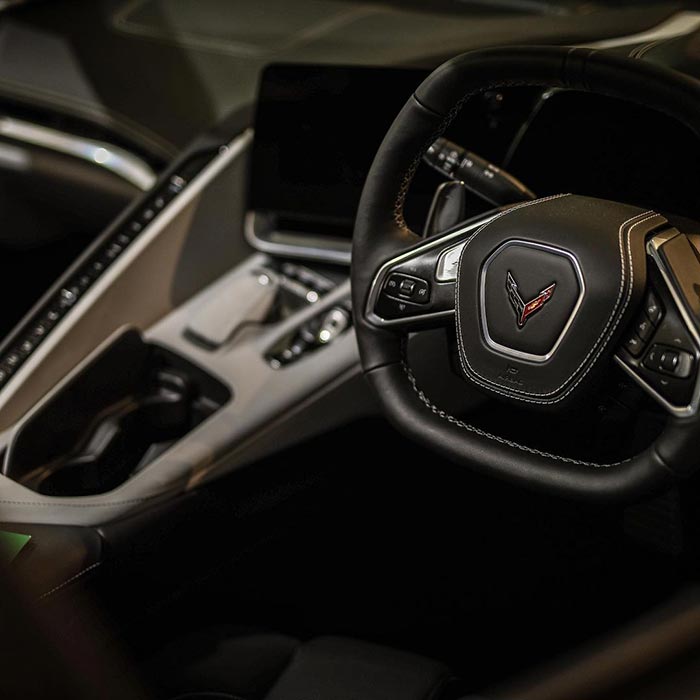 Photo Credit::GMSV/Instagram
---
In the meantime, however, at least one 2023 option – the engine appearance package – won't be available in Australia. A $1,500 gift card will be given to customers who have already made that choice.
However, the Z51 Performance Package and the E60 Front Lift are still available for Australian customers, along with three new wheel options, black exhaust tips, and optional blackout interior trim or Dipped Adrenaline Red interior. Once they finally get to order their cars, customers will also be able to choose exterior paint color, decals, brake caliper color, exhaust tip options, seat belt color, and interior trim color.

As for the long-awaited Z06, GMSV is telling dealers to expect an update on their allocations in the second half of this year.

Source:
Drive.com.au