The '23 Stingray and the Z06 will get this option. But might it have some option code requisite(s) in order to then select it?
Harlan shared with us at last Sept 3rd's NCM event that there will be 70th Anniversary Design Package, specifically by his noting past history about comparable moments for past notable Corvette anniversaries of our 1953 starting of our Corvettes. Of course he properly did not tell us what would be any of its the components.
At the October 26th Z06 reveal, we were shown the Easter egg "70" etched into the hatch glass. So do we concretely know one of the Design Package components? Not really, for if something is standard on every Z06, it is not going to be considered part of the 70th Anniversary Design Package. However, not just the Z06 but EVERY 2023 Stingray will also have the special window Easter egg (pictured below).
This is my first and only prediction as to what all 70th Anniversary Design Package C8's will have:
Where did this come from? What might it mean?
This was is a single frame print from this October 20th, GM Z06 teaser video entitled "2023 Chevrolet Corvette Z06: Tune In."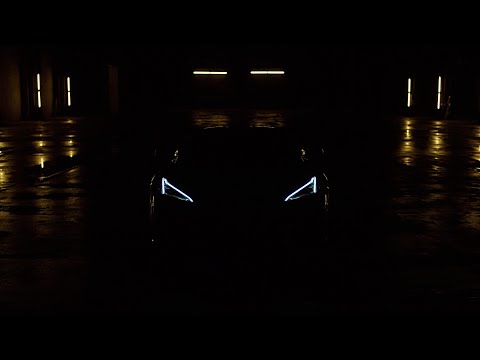 Most of us felt we would next see it on the reveled Z06's. Yet when the next and last Z06 pre-reveal teaser video came out immediately before the reveal, tens of thousands' eyes peered to see if that embroidery was on Emilia Hartford's and/or Z06 driver and Corvette NVH Engineer Cindy Molnar's headrest. It was on neither, and when at the reveal the following week it was again not on either the standard Z06 nor the Z07 versions there, that singular frame of four GM teaser videos spanning all the way back to last summer was pretty much forgotten.
But then by chance, I re-found my pre-reveal notes and pictures and then putting two things together when I remembered a key and enjoyable part of the 60th Anniversary Design Package, and nicely at least to me, 2 + 2 = 4. I am now wagering that all 2023, 70th Anniversary Design Package cars will have this embroidered on its headrests, of course with a number change to "70" on its headrests; that the below picture is obviously from the 60th Anniversary Design Package Corvettes.
That would be a nice visual treatment to have "70" and the Corvette victory emblem flag embroidered on the upcoming 70th Anniversary Design Package headrests.
However there was another place where GM used embroidery to make a nice interior visual statement and that was on the center console armrest of C7 Z06's.
Getting back to the anniversary design package themes, there were 2,059, 2013 customers who chose the 60th Anniversary Design Package. It had it own color interior, e.g., two tone blue which is very close to the C8's two tone blue presentation. It also had special exterior graphics, even its own, unique brake caliper color. Its massive silver stripe will always stand out.
Why do I mention this? Might those antecedents give us some clues as what kinds of things we might see returning in some form for the 70th Anniversary DP?
Before we leave the related question what we are going to see on all 2023 Corvettes, here is the "70" Easter egg that will be on every 2023, seen here on the lower edge of the rear hatch glass on the Z07 coupe at the reveal.
Quesions for sure we do not know answers to, include:
*What would be the 70th Anniversary Package's colors (exterior and interior) — or might there be multiple color choices? The leading contender among us Corvette aficionados, for it has been talked about for years, would be Pearlescent Metallic White. BGA Body and Paint Shop Manager Chuck Valentini has verified twice it is possible with the new paint shop; first he did so as far back as in April, 2016 as part of the paint shop's major construction achievement public event, specifically in his answer to question afterwards, Chuck said Pearl White would be possible in the new paint shop. He said this again this past September at the NCM 27th Event; again in a & A session he stated that Pearl White
could
be a future Corvette color. If Pearlescent Metallic White were offered for the 70th Anniversary DP exterior, and then what about it repeating the 1953's 70 year old pattern of it similarly having a red interior. Might the dipped Adrenaline Red recently shown on the C8 Z06 be also destined for it? If so, how about looking at this cousin exotic, for it has that color-pattern we can see it right now?
Picture thanks to
https://www.instagram.com/shunya1209/
The second exterior color 70th Anniversary exterior color guess is that it would be Carbon Flash; the first and for the only time is used was in the 2012 Chevrolet Corvette Centennial Edition.
*The 60th Anniversary Design Package still gets rave reviews from most. It pioneered many things including for the first time in automotive history that a colored, decorative stripe was woven into its cloth top. While we know that is not going to happen for the 70th model year, might there be some other major components or a different stylistic introduction we have yet to imagine?
*Another question is, would the Design Package be limited in number as we have seen several times and as we have seen all the time on Special Edition Corvettes? 500 is often a number for a special edition (e.g., the two, 500 unit special, first year 2014 "Premier Edition" C7's). Sometimes instead it is 1,000 units such as just was the total number of the 2022 C8.R Special Editions that were made, yet again as per above, the 60th Anniversary Design package was not GM-limited in number; neither was the 50th Anniversary DP. However in the 2013 model year, GM made the 60th Anniversary Design Package (option code "Z25") available to all who wanted BUT getting it first had a major pre-requisite that one first had to select one the highest level interior trim level for a model before one could then select the 60th Anniversary DP. Only 1,205 chose it, but interestingly GM also offered both that year a "Grand Sport Heritage Package" (option code "Z15") which was chosen by 728 customers, and a "427 Heritage Package" (option code "Z15") which was chosen 691 customers.
Going back further to the 50th Anniversary Package, it was an option available across the board for every customer. It had gorgeous "Xirallic crystal" medium-dark Red metallic paint, with a two-tone gray shale interior. Friends of ours who live in Bowling Green have a convertible 50th and every time we see it, it remains stunning. Well done GM in picking that combination! It had exterior and interior badges that said "50th." There were 7,310, 50th Anniversary coupes (option code "1SB) and 6,643 Anniversary convertibles (option code "1SC"). In short, color exterior and interior and some badging made it the 50th Anniversary model; it was available across the board to all who wanted it. Note that then was absent the word "Design" in its official nomenclature, e.g., it being the "50th Anniversary Package."
What else might the 70th Anniversary Design Package C8's come with? Based on the above and the special edition C7's and C8's, might it be a pretty sure bet of it again having some unique exterior graphics, and/or 70th emblem on the rear fascia or elsewhere? Lastly to instantaneously differentiate it from all other 2023's, could there be a partial color change to where part of the lower front fascia to perhaps some insert of special color components, e.g., sort of echoing the C8.R's special coloring treatment in that area?
Putting this all in summary, we so far do not know much about the 70th Anniversary Design Package; what exterior and or interior visual components would you either predict, and/or would like to see on it?
Personally, I am betting one one feature for the 70th Anniversary Design Package; imo it is worth repeating. It will have this embroidered on the center armrest cushion or on the upper seat's headrest!