Humungous thanks to George Kenner, National Realter of the Year, who as he shares, was near his Yuma, AZ home, just finished drive in lunch and found
gold!
He was heading north on Rte. 95, just north of I-8 (not far from the Chevy's Yuma, AZ Proving/Testing Grounds)/ Notice that this convoy is composed of, we think, the same six MEs that we earlier say in the linked one, but in this one we clearly also see GM Vice President Mark Reuss. Guessing that Tadge, Harlan and Alex MacDonald were also along as they were in the one we saw ten days ago.
As George noted, and normally the verbal descriptions are terrible, but he is truly
very enjoyable/fun
to listen to (learned at one point he sold Corvettes in his earlier life), so while he tells you in it that he has reproduced all the video as a continuous stream at the end (starting at 6:09), his commentary about the car's lower height than a C7, the steering wheel and more, I recommend you listen to the whole thing.
Hello Mark Reuss!
So again thanks so much George for giving us mid engine Corvette crazies a wonderfully fun, publicly shared on YouTube video.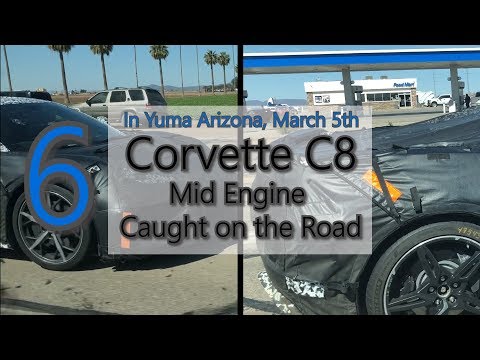 As to the copyright issue, I called the video's creator George Kenner this morning, had a wonderful conversation with him, and received his permission to use it in a "non-selling" capacity, e.g., okay to post it here.
Thank you George Kenner!