Before we dive into details of what makes the two C8 Z06 versions' aero the same and different from each other, for those who are wanting refresher pictures and some other background information, these two existing threads would be a good intro.
Standard Z06 spoiler thread:
https://www.midenginecorvetteforum.c...out-wickerbill
The Z07 high wing thread:
https://www.midenginecorvetteforum.com/forum/me-discussion-photos-videos/340475-the-z06's-high-wing-thread
First our re-examining the aero changes that the C8 Stingrays introduced, then talking about those aero Z06 components in both versions…
C8 Stingray Introduced Aero Advances:
*Body panels. Both the coupe and the HTC have the same smaller changes from all 2019 and earlier Corvettes, e..g, starting with tiny things such as the 2020 Stingrays eliminating separate side marker lights. Then all the way at the other extreme of the massive aero changes/advantages caused by going from a front engine to a mid engine configuration.
*As we learned in the video below, the ultimate major C8 aero enhancement that Lead Development Engineer Aaron Link noted when going from C7 to C8, with our Corvettes leaving its seven decades of front engine configuration and now having our mid-engine, that its the air flow over the top is smoother and helped give it more downforce. Why? There is no more air existing the rear center of the C7's hood then going over the windshield and backwards. More on many of the items discussed in this thread comes thanks to this video from EddieX.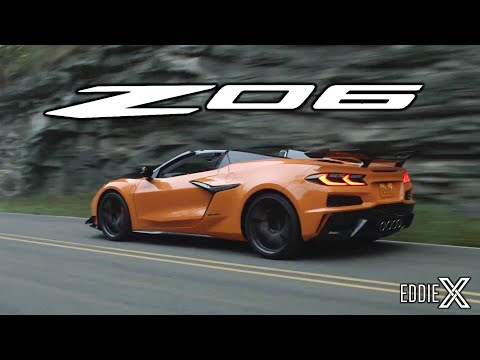 *The C8 has a completely flat underbody to assist air underflow, e.g., also results in a nice drag reduction from some of the C7's underneath openings that created air turbulence.
C8 Z06 Aero "Negatives":
Now moving an aero-negatives that are common to both the standard version of the Z06 and to the Z07.
*Both versions share due to their 3.6" greater width, their much wider side scoop. That sure does not help air slip by the car but more cooling is always required of a mega HP mid engine. However, that wider scoop fills the bill, grabbing in that greater volume of air needed for the Z06's increased cooling needs, its greater volume motor intake combustion, and also to cool its larger rear brakes.
*Another aero negative of the Z06 in both versions are their wider tires. They as is obvious, are needed for handling the better Z06's power output compared to the LT2 (HP's up 36%), but they certainly hinder drag just because of the fronts being 30 mm wider (to 305mm and the rears 40 mm wider (to 345mm).
Yet, in-spite of these major negatives, overall the team did a superb job of helping the wider and heavier Z06 cut through the air. Lots of progress in four model years…. The biggest proof of that is when Tadge first told us during the 10/26/21 reveal that comparing the aero on the front engine 2019 ZR1 ATK track version to now our mid engine, C8 Z06/Z07, "we have an eight percent lesser drag yet six percent greater downforce."
Corvette Designers and Engineers Are A True Team — And Critically So In The Aero Area:
The GM Corvette team is very advanced as to how it now daily functions, certainly compared to its early days when literally designers were pushed to one side, engineers worked on the other side of the Corvette leader's area. They often started to talk when there was a functional issue needing resolution. Compare that to what started in earnest when Dave Hill became the Executive Chief Engineer in the mid/late C4 era, his not just hiring Tadge Juechter but having engineers and designers become a team. Meeting and working together is sometimes a daily occurrence now. As the best single example of that is the C7 and C8 "Chief Exterior Designer" Kirk Bennion is a track person himself, e.g., an HPDE Instructor. Secondly, although it might seem small compared to the overall picture, when Tadge wanted to insure that the C7 worked well aerodynamically, he had Kirk spend literally several hundreds of hours in GM's massive wind tunnel, constantly further refining its body panels to gain fractional less drag. Downforce became king with the 2019 ZR1 ZTK. Its high wing was revolutionary for a production Corvette. Tadge said to me at the ZR1's reveal that "Kirk was in the wind tunnel over 100 hours just for its development."
To note the progression over the last four model years, repeating this one sentence, "Comparing the aero on the 2019 ZR1 ZTK track version to now our mid engine, C8 Z06/Z07, "we have an eight percent lesser drag yet six percent greater downforce." We heard if first from Tadge, have since heard it from Alex MacDonald and Aaron Link ('A & A").
How does the standard Z06 (without its optional aero package), differ from the Z07's standard aero components? In what ways are they different?
Surprised at first though we are now all aware of this, that all Z06 side rockers are reduced in size from in the C8 Z51's 5VM package. It is rare on Corvettes to see smaller size aero pieces than on the next, higher-performance version.
We can get an aero PACKAGE on the standard Z06 that has most (but not everyone of the same components that automatically come standard on the Z07.
C8 Standard Z06 Version (Without optional aero pkg)
*Regular size splitter.
*Side rockers (1)
*Sculpted rear deck spoiler — with insert-able wickerbill (2)
C8 Standard Z06 Version With Only the Ground Effects Package:
Same as above but with the larger front splitter and side rockers. Note please you can then choose to get these components in either carbon fiber flash metallic black paint or visible carbon fiber.
C8 Standard Z06 Version With OEM "Aero Package"
*Extended protrusion splitter
* Front canards/dive planes (4)
* Side rockers (1)
* Identical to Z07 track package's two-pedestal high wing (3)
C8 Z06/Z07 With Its Complete Aero Package:
*Extended protrusion splitter
* Front canards/dive planes (4)
* Side rockers (1)
* Two-pedestal high wing (3)
* Underbody aero strakes (5)
(1) Side rockers: Identically sized and identically shaped for every Z06
(2) Sculpted deck spoiler: The wickerbills attach with quick removal/re-install of existing black screws into the lower side of the standard rear deck spoiler. When installed as per the first linked above thread, they stick up more, adding 365 pounds of downforce in that configuration.
(3) High wing spoiler: Achieves 734 pounds of downforce @ 186 MPH (highest downforce level achieved at that speed for any production Corvette).
(4) Canards are identically sized/shaped on both versions.
(5) Underbody aero strakes: I reached out to GM but they do not have an official picture of the underbody aero strakes so we shall use these two following ones, as well as their being described by Vehicle Performance Manager Alex MacDonald as starting out at the front about 1" apart from each other, on opposite sides of the centerline, and working back to the sides of the car to exit about the mid-door. Here is a little bit more knowledge we have about them thanks to the Detroit Free Press ("Freep") for their noting that the "underbody aero strakesare "four, 5-foot-long "strakes" on the underbody directing air out from under the car to reduce air pressure and increase roadholding."
Vehicle Performance Manager Alex Manager call the underbody aero strakes the best aero for they increased roadholding, also his talking about by their reducing that underbody panel air, creating instead downforce. He call them,
"free aero; downforce with no drag penalty so we love them!"
Speed Phenom caught this picture of the front ends of them on one of his videos.
Here, thanks to Vehicle Lead Development Engineer Aaron LInk pointing out the aero strakes' ending points under the door rocker, they are one to the left of his jacket sleeve end, the other one just to the right of his thumb.
Why we have learned quite a bit about the Z06's aerodynamic components, I have assured by a top member of the Corvette team "we will be releasing more information later." Tadge at the reveal talked about two aero-related performance measures we we hope to learn at the end of our testing and development process. First we will get a top MPH (hopefully for both versions); and then "the team's goal but no guarantees due to so many external factors, our going back to the Nurburgring in the spring for our trying to get a lap time."
But wait, for we have been told there will be more, even additional to that aero info released later….
Eagerly standing by to learn more…