Yesterday's atsam@IG's video has raised the question as to whether his video, posted by Corvette_Nut on YouTube and repeated below, has identified a third ME wheel option, or whether it is really the standard split spoke wheel we have repeatedly seen for the last 1 1/2 years though previously only in black — though obviously now in a silver color?
UPDATE: There are only two different C8 OEM wheels, though with color variations, a total of six of them
Post # 50 has a good picture of the below wheel when not in motion.
Here is the black, open/split 5-spoke wheel (option code Q8Q), we have seen for so long.
We further know from the leaked GM Workbench Software screen print that there is a high probability of that black split/open spoke also being in "bright silver" (option code Q8P).
The other C8 wheel option we have seen since from that October, 2017 first real ME sitting at MacDonalds, referred to by GM as the 5-Trident wheel, by most of us as the Mickey D wheel, is this one (proabably option code Q8T), has been:
However, there is an interesting third wheel option listed in the leaked specs, referred to as
Machine Faced w/ Sterling Silver (Q8Q). Might this latest wheel be a third, separately defined C8 wheel? Or is this another example of the preliminary specs having a wrong or missing written description? Its description is different from the wheels were have earlier seen in that it neither has the words "open/split," nor the words "5-Trident" in its written description.
Spoke width or perhaps spoke shape from the wheel center as the spoke goes toward the wheel edge might be key assists to help us answer this question.
Re-reviewing that video and the below screen prints taken at 1/4 speed, do you think we are seeing a third ME wheel?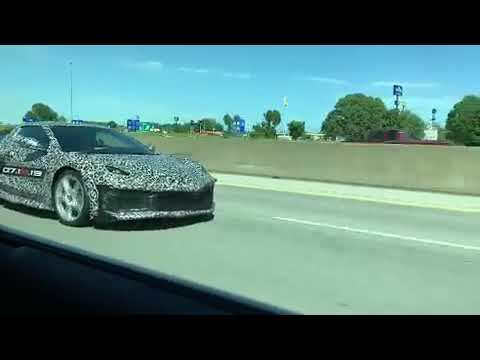 Might the fact that the wheel spokes are rotating at speed give us a false idea as to what we are perceiving, perhaps exaggerating seeming "spoke width" which in turn erroneously have us thinking this
could
be a ME third wheel option when it is not?
Any wheel specialists here that could help answer this question?