As we know the strike was eight full weeks long. Might there also be additional time needed to get the plant up to full production speed, so that they could start/finish the 600 C7's that have been on hold all this time. Though good news, BGA production workers returned to the Plant today.
I was wrong in earlier thinking that the assembling the remaining 600+ C7's could be completed in just 1 1/2 weeks. The other estimated amount of time to complete C7 production was that it would take a full three weeks, is a timetable that turns out to be correct.
Next, as confirmed to me and to others, the C7 to C8 plant upgrade conversion was/is scheduled for eight (8) full weeks. Also during this BGA conversion to C8 assembly, BGA production and skilled trades employees will be trained on their C8 until they all achieve "level four skill mastery." In fact, every employee will be trained on a minimum of two different jobs, e.g., production redundancy requirements. Not that it will take anywhere near eight weeks for any line worker to reach that level for their two jobs, but for all area supervisors who must reach that same mastery level for ALL jobs in their area, (such as Trim 1, Skillet 2, Assembly 3, etc), those production supervisors are each going to have to master about 15 jobs at that required skill level. Good thing there are eight weeks available for supervisors to achieve all such competencies.
BTW, to re-familiarize yourself on the current Plant assembly processes,
here is an outstanding Nov., 2018 video preprepared by Jeremy Welborn ("jagamajajaran") on how BGA now builds Corvettes
. Even if you have seen this video before, both its music and its content alone are each worth seeing it several time more IMO.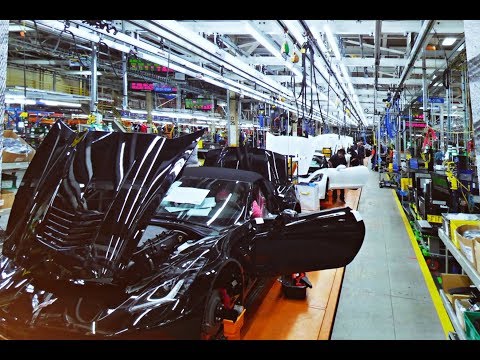 Every part of improved assembly processes that were put together in the fall of 2017, were installed with C8 production efficiency in mind, so while many of the "lift assist devices" and other equipment will still need to be changed, and the part of the robot shop for C7 production removed, the primary flow and processes of assembly line shown in the video within it is very close, perhaps identical to what we will be seeing next springtime when we hopefully get back into the plant for public tours.
The original C8 coupe TPW start of production (SOP) for the C8's was December 2nd. Two weeks ago it was learned, actually reported first here on MECF, that all C8 couple TPW's were significantly postponed, learning then that the earliest new ones (confirmed by two who have very, very early custom VIN's), had jumped from December 2nd to the new, earliest, January 20th TPW. Some of them changed as much as from December 2nd to March 3rd. Discounting the two week Christmas/New Year's Holiday annual vacation, that meant that GM had then moved forward TPW's AT LEAST SIX WEEKS NET. However, it was two weeks ago when those pushed-out TPW postponements were announced, and with two more weeks of the strike since then, what new SOP date do you believe we will next see when batches of new TPW's are released.
Do you think?
1. There always was a couple of extra weeks built into the BGA plant conversion process?
2. But those got eaten up by the strike extending an additional two weeks after the last TPW revisions, i.e., the January 20th SOP time table will stay the same (some factors moved up but they were counteracted by some things moving further into the future).
3. Some SOP's will move closer to the beginning of January?
4. The last two additional weeks of the strike will push out TPW's that amount of time, so the actual C8 SOP has moved to February 3rd or perhaps even later than that.
When you think that C8 TPW coupe SOP will begin?