h
ttps://www.corvetteblogger.com/2019/08/16/video-blade-silver-2020-corvette-stingray-in-flint-for-the-back-to-the-bricks-show/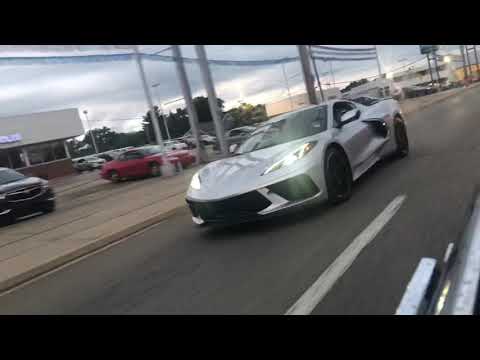 Some good rolling video of a
Blade Silver 2020 Corvette
was posted on YouTube by "
Adams Car Vlogs and Reviews
." When the C8 is stopped next to Adam, the driver gives a couple of revs, which was not only enjoyed by Adam and his passenger but also put a big smile on the C8 driver's face as well.
According to the video's description, Adam had been enjoying "Back to the Bricks" when he came across this C8. Back to the Bricks, a six-day extravaganza that takes place annually in Flint, Michigan, and is sponsored by General Motors, began Monday and continues through this Saturday, August 17. The event began Monday at Lapeer International Dragway and featured a family-oriented party at the US-23 Drive-In Theater and "Rolling Cruises" along the parade route down the red bricks of Saginaw Street in downtown Flint. Friday activities include a car show, concert, and dance party followed by the big show on Saturday.
"Show cars will begin lining up before dawn in the staging area on Fifth Avenue at Saginaw and Harrison Streets, so that drivers can secure a spot close to the action. The OPENING CEREMONY at 10:00 AM on August 17, 2019 will feature presentation of the colors, patriotic music, a salute to our veterans and active-duty personnel, and a military fly-over, weather permitting. Classic Car Sales (formerly the CAR CORRAL) will offer prospective buyers on-the-spot financing, thanks to ELGA Credit Union. Vintage Buicks will converge on Factory One, the birthplace of General Motors, our Presenting Sponsor, and there will be a Corvette Reunion near the Durant Hotel. Thousands will stroll the "bricks" of Downtown Flint from 8 to 5 to admire classic and custom vehicles of every age and description, take pictures, check out the sponsor and vendor displays, buy souvenirs, taste the food, and enjoy the fun that has become synonymous with Back to the Bricks."
For more information about "Back to the Bricks," visit their website at
https://backtothebricks.org/
. And who knows, you might even be lucky enough to see a C8 or two in the area this weekend!