Thanks to CorvetteBlogger and CNET, we have numbers to prove how successful the C8 Stingray's internet presence has been, starting with the livestream. We since know from many Chevy dealers already being sold out for their entire year's allocation, that it is far more than just internet, instead translating into buyers placing mega-thousands of deposits on their chosen upcoming 2020 C8.
https://www.corvetteblogger.com/2019...for-chevrolet/
Originally posted by CorvetteBlogger
2020 Corvette Launch Smashes Records for Chevrolet
By
Mitch Talley
The numbers are in, and the new
mid-engine 2020 Corvette
looks like a hit, at least on the Internet.
Chevy is aiming the new C8 Stingray at a younger audience, one of the reasons for the massive presence on the Web.
And the carmaker's hard work is paying off with massive Internet numbers. How many of you raced to your computers to watch the unveiling of the new car on 7-18-19, then shot over to the configurator to design your very own 2020 Corvette?
That's what we figured.
In fact, Chevy says 471,000 people watched the livestream of the mid-engine reveal, even though it was past the bedtime of a good portion of America.
That was just the beginning. The next day, like many other folks, we experienced the frequent crashing of the configurator as it was overwhelmed by the huge numbers of people trying to design their new car just like they want. Steve Majoros, director of passenger car and crossover marketing for Chevrolet, says the Chevrolet.com website smashed traffic records on the day after the reveal with five times the usual traffic.
"With a pretty rabid and passionate base, we knew we'd take 24 hours of grief," Majoros tells Roadshow. "The majority of people got the full [configurator] experience, which is the full 3D experience. We do have a way that the system throttles to what we're calling a 2D experience [to speed load time]. Once we hit thresholds, we worked with Amazon Web Services very quickly to double our server capacity."
Traffic has remained heavy. Through the end of July, the C8's Chevrolet.com landing page has seen 2.4 million visits, including 750,000 in the first 72 hours after the unveiling. In addition, about 1.3 million users had tried out the Corvette's Visualizer, and we have to admit we've been right there with you. In fact, visitors to the site have already built more than 940,000 Corvettes and spent 152,000+ hours making their dream Corvette. What's your favorite color? (Our only suggestion is that Chevy figure out a way to make the pictures more realistic as far as the actual color goes – perhaps with photos of real cars available at the end of the rendering. We're not sure a configurated car is always going to look the same in the flesh.)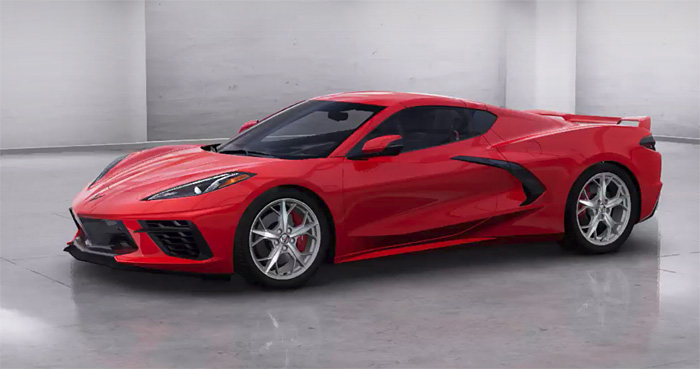 Of course, it's no surprise that enthusiasts are using the configurator so much.
"Corvette, as a vehicle, has always been about personalization and bespoke and customization — making it yours," Majoros tells Roadshow. "We wouldn't be having this call if this was [a] Malibu or Equinox, right? [With those vehicles] we've got like 40 build combinations … we have probably infinite build combinations [with Corvette], because that's what customers want. They want a car that's uniquely theirs … it's not a surprise that people are building and saving multiple versions."
While Rapid Blue and Elkhart Lake Blue Metallic have emerged as the two most popular color choices, Majoros says that probably won't translate into actual sales. We're sure a lot of people have also looked at Accelerate Yellow and Zeus Bronze with no intention of buying such a car. They're just curious to see what the colors look like.
The website isn't the only place for information about the new Stingray, though.
]
Chevy has gone all outwith a special call center task force comprised of highly trained customer call center workers who can answer just about any question thrown at them.
They've been trained in engineering, dealers, history, allocation, ordering, speccing, specifications, "anything that we think could come our way," Majoros says.
Five of these "concierge" task force members are on duty at any given time and are ready and willing to answer your questions 12 hours a day, with the average phone call said to last 15 minutes but sometimes more than an hour.
"I want these people to be your Nordstrom concierge. I want them to know you, basically be your personal shopper," Majoros says.
We'll know soon whether all this Internet presence translates into increased sales and decreased customer ages, but based on the reaction so far, we'd be willing to bet that Chevy may have finally found a way to make younger folks buy Corvettes, too.
Source:
CNet's Roadshow