The case to support that Z06's are being street tested right now is growing, and the following has collectively convinced me that the Corvette team is already testing the Z06 version of the C8 — and not just in their secret testing facilities.
First, a couple of unsolicited communications I have received. These are from folks who provided not one detail other than their cryptic messages using such words as "the next version has started testing." Given the length of time GM has been street testing the first year entry C8 version (now 2 1/2 years), this would sure makes sense to me/us.
Second, thanks to Corvette_Nut for sharing the below pictures. He noted that they were taken "California Cruising."
These pictures lead to the obvious question, i.e., why are they now returning to the much thicker black cladding camo, when we have seen hundreds of pictures since last September 5th with the mules since mostly being in the thin vinyl camo? Duh, to hide something.
What are they hiding? According to rumors, the Z06 version would differentially have hood ducting, a slightly wider side scoop for more cooling, a revised rear spoiler (perhaps active aero), and a revised rear fascia (perhaps incorporating top center exhaust pipes). While again all those things are unconfirmed, they sure make logical sense for what changes the Z06 could bring about — plus the attendant mechanical and chassis upgrades to support that more powerful version. And thus to hide them now from our prying eyes, the GM "Masters of Disguise" have re-introduced the thicker black camo.
What is now hiding in plain sight, but slotted rotors— the first time we have seen those, i.e., in literally mega-hundreds of C8 earlier spy shots, those were never seen before.
For more detail, CorvetteBlogger has some C7 Generation, brake evolution pictures, showing their evolution from base plain rotors, to the Z06's slotted ones , to Z06/Z07's with ceramics here:
https://www.corvetteblogger.com/2019...6-in-disguise/
Better brakes being sighted also fits with other repeated-ad-nauseam rumors that the Z06 would be powered by a twin turbo V8, with its famous "whistling sound." Listen toward the very end of the following video we first saw/heard a few days ago, that mule's motor whistle, its even being exclaimed by the enthusiastic videographers.
Originally posted by CorvetteBlogger
https://www.corvetteblogger.com/2019...hat-whistling/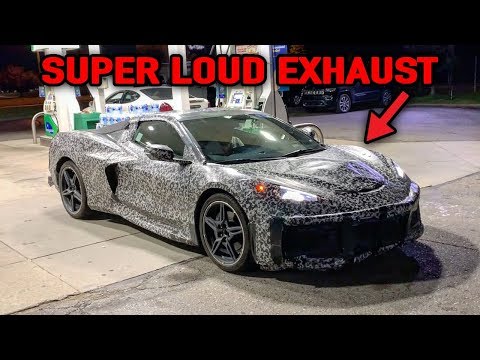 However, there are more than rumors the Z06 could be having twin turbo V8's, e.g., in the fall of 2017, a IHS Markit Engine Forecast listing that the Y2 Corvette (the mid engine) will be having a "5.5L, 32V, DOHC, V8."
As it is believed that production of the first year, entry C8 would traditionally have a 16V, OHV powered by a motor called a "LT2" (something verified by the leaked but unconfirmed Jalopnik specs), an entry C8 that GM Authority has stated would start production this December, and as GM has filed a "twin stage, twin turbo V8 motor patent," it could well be that we are now seeing initial, street testing of the next version's twin turbo powered, Z06 C8.
When might the Z06 C8 start production? No one media has even ventured a guess — though we do have a C6 and C7 pattern that the Z06 version is released in year two of a new Corvette generation.
Hell, we haven't even gotten to the first year C8's reveal yet, but are already doing our focused reading of the tea leaves as to the next mid engine C8's version .
If we are now believing that we are starting to see street testing of the Z06, the Z06 has been long testing both at GM's 140 miles of track hidden within its Milford Proving Ground (Milford, MI) and at its 40 miles of track within its U.S. army base, no fly zone, secured testing facility in Yuma, AZ.
****, we are the "unsatiables!"