A friend (who is a forum member) recently went and talked to his GM and supplier friends, hoping they would share some ME information. Great idea, but his friends were not talking. I too have reached out to those who know definitive ME information, but again, little or absolutely nothing.
Both of were also talking on the phone the other day about how we knew lots of facts about the C7 long before its reveal, but this time we are each running into a brick wall trying to learn even meager morsels.
So what is different this time?
We agreed on one thing, that having one's ME colleague fired for talking "out of turn" is probably the reason why the "info spigots" are closed so tight right now. It sure would be sobering if a person within your building that you are least met a few times at the water cooler, had gotten escorted out of the building, is no longer employed.
The second reason is that GM has even backed away from internal ME decisions. As one example, at one point the reveal of the ME was definitively set for a specific show/date, but now its time is "within a reveal window, with options being discussed." I am not blaming GM for re-thinking things, waiting for more testing and development results..., just hard for us to learn "internal things" that GM does not yet want us to know.
The one place we are learning from is the spy pictures, and even then, while the following two pictures helped us learn about the "thickness of the camo cladding on the rear of the ME" (best guess is about 2 3/4" in some spots), and separately learn about the door's seeming internal hood duct, slim pickin's even from the spy shots.
We did learn something dissecting this ME acceleration testing, that it definitively has a V8 — but precious else.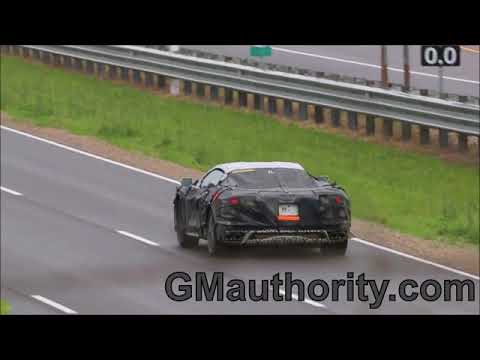 So what is next? When will be learn more? And from what sources?
Inquiring minds want to know!