While we are waiting for real ME news, I find it interesting to re-read the past, especially when such true notables as Bob Lutz, as he did in 2015, pontificated on the ME Corvette.
Low and behold, most his ideas are coming true, such as no ME manual transmission.
Let's hope however, he was way off base on his talking about it costing $120K. I bet he was talking about a loaded Z06 equivalent, for he did say to "suck the doors off" the competition.
Originally posted by roadandtrack
Making The Case For the Mid-Engine Corvette (By Bob Lutz; January 15, 2015)
Price it around $120K, and then suck the doors off everybody!
I first saw rough plans for a mid-engine Corvette around 2003. That's when we were starting to think seriously about a replacement for the C6. GM's head of engineering, Jim Queen, came to see me and said,
"The next one's got to be mid-engine."
Tadge Juechter had a PowerPoint presentation demonstrating, very credibly, that the C6 ZR1 was at the limit of usable rear-wheel-drive performance. The problemwas really the front-mid-engine layout—we couldn't get the engine low enough and far back enough for proper weight transfer to the rear wheels under acceleration.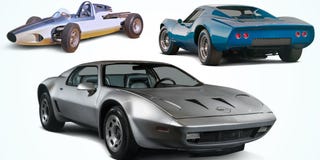 These 10 cars paved the way for the mid-engine Corvette
I didn't want to move out of our price class, but Tadge explained that while the transmission would cost more, the list price would increase by no more than $5000. Imagine an American-built car with the proportions of a Lamborghini at that price point …that's pretty appealing.
READ MORE:
The dirt on the secret, mid-engine C8 Corvette
Rick Wagoner's reaction was the same as mine: "Oh, no, no. We're not going mid-engine." He was a great fan of the ZR1—the car's code name was "Blue Devil" because Rick had played basketball for Duke—and he felt that was about as good as it gets. He thought a little more power next time would fill the bill. Problem is, lap times would be no better using the same architecture, even with, say, 750 hp. The car would just be a handful, à la Dodge Hellcat. But after seeing Tadge's presentation, Rick said, "Well, that's pretty convincing."
We did two full-size mid-engine clay models around 2004—a Corvette and a Cadillac XLR replacement, each with entirely different bodies. We weren't sure whether they'd both use the small-block, or if the XLR would have a twin-turbo Northstar, but they were both gorgeous. We started working on it.
"YOU'D PRICE IT AT ABOUT $120K, HALF THAT OF THE EUROPEAN STUFF, AND THEN SUCK THE DOORS OFF EVERYONE"
Around 2005, GM started having budget problems, so the mid-engine project got deferred; by 2007 or 2008, it was obvious that we were not going to have the money. A whole bunch of stuff got canceled. Impala was delayed. XLR was canceled. Camaro convertible was delayed. The CTS was delayed. For the C7, the Corvette team didn't get $900 million. Instead, it got the nominal sum of $250 million and "do the best you can." There's no way we were going to get a production-volume mid-engine car for $250 million.
So, as is so often the case in these situations, there's hand-wringing and weeping on the part of the engineers. Usually, after a three-week sulk period, they go back to the drawing board and say, "Wait a minute, there might be something we can do here."
[IMG]https://hips.hearstapps.com/roa.h-cdn.co/assets/15/02/1280x782/gallery_nrm_1420739216-2017-mid-engined-chevrolet-corvette-101.jpg?resize=480:*[/IMG]
They wound up doing what Tadge said was absolutely necessary, moving the engine back another two, two and a half inches—which wasn't possible with the C6—and that's why the C7 has an inch more wheelbase, and get this, wonderful balance. Then we were saying, "Wouldn't it be nice if there was a mid-engine car called the Zora, north of 700 hp?"
Now, realize that inside an auto company, if the guys are creative at all, there are sensational ideas that internal car guys and designers want to do. We looked at a smaller, more youth-oriented Corvette for a lower price point—something with an I-4 or turbocharged V-6. We actually had Chevrolet versions of the Solstice modeled, and a lot of us were enthusiastic about a European-styled and Euro-sized car. But you look at the available engineering and capital budget, and the number of mouths to feed. You have to decide what's more important. Keeping the pickups and sport-utilities modern, to generate cash, is frankly more important than introducing something that enthusiasts will love.
If Corvette were a separate company, you could play all kinds of tunes, like Porsche. You'd make a Corvette SUV. You'd make a sedan. You'd have a front-engine car and you'd have a mid-engine car. It's become a very powerful subbrand, the most profitable per unit of all GM passenger cars (including Cadillac), so I think it would stand the mid-engine continuation of the front-engine car.
Instead of the old strategy, which was to replace the front-engine car, you'd do the Corvette in a mid-engine version. You'd price that at about $120,000, half that of the European stuff, and then suck the doors off everybody. And that would not be a $1 billion project; minus an XLR replacement, I think you'd probably be talking $500 million to $600 million. Downside is, it'd be hard to justify a manual transmission. With an automatic, you get rid of the clutch, which is a wear item and would have to be an expensive hydraulic-assisted type.
"CHEVY BENCHMARKS EVERYBODY, EVEN MCLAREN… IF THEY DO THE ZORA, IT'LL BE ULTRALIGHTWEIGHT."
I hope GM does it, and I hope they use the name Zora. That name sounds great and would pay homage to one of the most brilliant engineers GM ever had, the father of the Corvette. I'm absolutely convinced they'll get it right. The Corvette team's objective is always getting a top model that has a better horsepower-per-pound ratio than anything on the planet. They benchmark everybody, including McLaren and so forth. The C8 will be lighter than the C7, and if they do the Zora, it'll be ultralightweight.
All things considered, I'd put the chances of a mid-engine Corvette at better than 50 percent. Mary Barra is all for exciting things. I don't think [ex-CEO] Dan Akerson would fully comprehend the value of a mid-engine Corvette, but she understands. She's really the first CEO that doesn't come out of the treasury office. With Mary in charge and Mark Reuss at product development, my guess is that, if work has indeed started on the Zora, it started six months ago.
Oh, and those renderings that have recently popped up? [GM's global design chief] Ed Welburn's comment was, "If you look at them, you immediately know why those guys aren't working for GM design."
https://www.roadandtrack.com/new-car...gine-corvette/