Whether The December C8 Start Of Production (SOP) Rumor Is True Or Not, There Will Be Some BGA Initial Assembly "Production Ramp Up" Factors.
Wow, the "December is C8 start of production (SOP)" rumor has exploded, already been stated on almost about every Corvette automedia site. For those who missed it, and emphasizing that it is still unconfirmed, here it is:
Quote from NiceRide, "We were (GM supplier) notified that the SOP has been moved to December." If you wish to learn more from our previous discussions of his comment:
https://www.midenginecorvetteforum.c...on-in-december
But as we wait without any confirmed SOP date, we could still mentally envision what that might mean in terms of first C8 customer cars being constructed, with the understanding that whether that rumor is totally accurate or wrong by a few months, the process of BGA gearing up to be ready to eventually produce the C8 at or near the current 11.5 Corvettes being assembled on a per hour (now averaging 93 new C7's daily), would involve most or perhaps all of the following factors.
First, the current assembly line will cease all new Corvette C7 assembly at some point. Despite repeated rumors of two separate assembly lines, there will be no separate assembly lines, and thus even if the C7 were to continue production co-mingled with the C8 on the one line (which I personally believe is not the case), the entire BGA Plant will be shut down for a time period.
How long would the Plant shut down be? No one outside of GM knows, but a best guess based on past timetables, is that is would be shut down between six to ten weeks for the process of changing out existing equipment, then installing new components and procedures.
As the jobs BGA employees would be doing to assemble the C8 will very different to what they are current doing, BGA staff would obviously need to be trained on their ME assembly tasks. How will they learn their new tasks when, during the equipment changeover, there would be little or no equipment to practice on?
The past provides an excellent answer to that question. They would be trained using the same excellent training process used during the 13 week long, fall of 2017, shutdown (when the plant was completely gutted of all internal equipment). During that time, the repetitive combination of of sequential "virtual training, then hands on training," would again be implemented, as it was described in the below video presentation made in 2017 by BGA Plant Manager Kai Spande.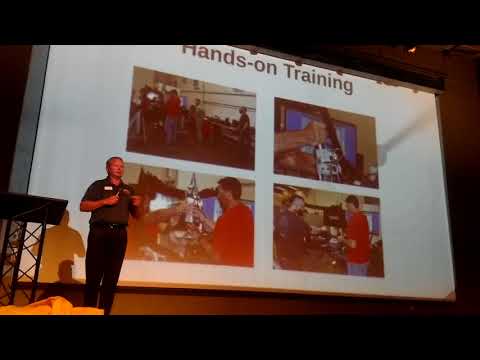 We do not know when C8's SOP will be, but since the first work day in December is Monday the 2nd, if the rumor were accurate, the first assembly of C8 customer vehicles could start on that date.
Turning backwards to see what we learned during the C7's start of production, it was then a process of slowly increasing rate of production, i.e., just like during the summer of 2013, the initial assembly of the new Corvette generation would first start at a rate of just one or two MEs per hour. It would then progressive ramp up as subsequent, incremental, assembly mastery were achieved.
As GM completes each of the initial cars at that smart but snails pace, the finished Corvettes would be dissected by a team of GM quality control specialists (QCS), and again like the C7 process, GM would import additional QCS staff from other plants to further initially accomplish a near micrometer look at the fit of each part to the next, the combined functionality of every single sub-system of the car, the overall vehicle performance efficiency compared to known standards, and the efficiency of the new assembly line procedures.
I worked assembling vehicles an OEM vehicle factory, so the key issue becomes not just first/initial step learning, but developing "muscle memory," which as we know is a developed skill that works by repetitive performance of tasks in a continual time frame. Thus, if early December is the C8's SOP, with however the typical two week Christmas/New Year's holiday break at BGA, that annual vacation could interfere with the progress muscle mass training process; so GM might figure out a means of reducing the typical two week holiday schedule to the degree possible? Alternatively, if the rumor of December SOP is wrong, this would become a total non-consideration.
BGA will, after that holiday break ends (whenever that is), still not be ready to assemble the units approaching the final 11.5 vehicle/hour pace, remaining short at least a couple of weeks more of additional assembly "fine tuning," and thus not reach the desired hourly assembly previous rate of 11.5 units/hour around perhaps the end of January, and perhaps even into February, for it literally took months during the C7 assembly-ramp-up transitional process to reach its maximum vehicle per hour assembly rate.
Secondly, might GM have designed a different hourly unit target completion rate, other than 11.5/hour, for the C8?
Major Factor
: Whereas the C7 quality control hold period was roughly three weeks, most expect that due to the complexities of mid engine vehicle assembly, with so many processes being massively different from assembling the C7, that the QCH (quality control hold) for the C8 would be a full four weeks long. It could be even a little longer.
As can be glimpsed by above, even if the timing were different from the December SOP rumor, BGA will embark on a very complex learning curve to produce our customer C8's. However...
IF everyone of the previous assumptions and the December SOP rumor were to hold true, the first customer could receive his/her beautiful C8 some around a late January or an early February time frame!