The low points on the undersides of my non-Z51 2021 C8 are a pair of covers (?) just inboard of the downward ducts ahead of the front tires.
The photo below is of the passenger tire viewed head-on, the downward-facing duct is in front of the tire, and the cover in question is inboard from the duct (to the right in the photo):
There is nothing inside the cover (on the passenger side anyway; I didn't look at the driver's side).
However in a Youtube video: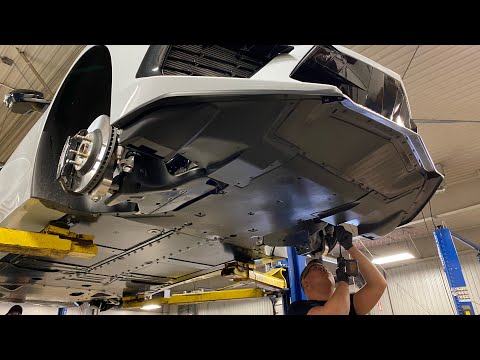 At 10:15 onward, the lower deflector panel (to which the cover in question would attach) is installed on a 2020 Z51 without adding the cover that is installed on my car. Clearly the panel has a recess area for such a cover as well as screw holes, but only the screws are installed.
No cover is ever mentioned for that recess.
The GM Parts Store lists a Z51 version of the lower deflector panels (to which the covers in question would attach):
https://www.gmpartsstore.com/oem-par...YtMmwtdjgtZ2Fz
as well as a non-Z51 version:
https://www.gmpartsstore.com/oem-par...YtMmwtdjgtZ2Fz
There's no indication that there could be a cover that can be attached to those panels.
What is this cover for?
Is the cover a 2021 and/or non-Z51 item?
While we're at it, how is that downward duct supposed to work?
Regards