Hey there you Corvette Maniacs!
We've had a few *coughs* firm *coughs* conversations (and received a couple nasty-grams via email) with folks over the last few days who are (understandably) getting impatient with some delays and we need to have a discussion about what's going on in the world today, folks
Our operations and production efforts happen 5 days a week (including some holidays) and the team is MOVING the entire day at a break-neck pace.
In spite of that "maximum effort" output, we're just like everyone else, in that we're suffering from the same massive national labor shortages, a lot of materials are getting a little hard to come by, and we're suffering through the prices for goods that ARE available having gone through the roof, so we need you guys to know we're busting our butts to stay out in front of orders, but some things are just out of our hands a little bit. (if one more person calls our brick and mortar business experiencing the same delays as everyone else in America a "scam", I sweater gawd...)
Again, and always worth pointing out: we aren't placing orders for the parts we sell to a manufacturer in China or Mexico, waiting for a container, and repackaging their parts as a business model.

We make everything here in-house, every day!
We've currently got 6 full-time employees operating 2 physical locations, all making parts and we are DESPERATE to hire a few more, but they're just not available as fast as we need them, so we're riding this wave just like the rest of the country.
Now that we've talked about that in abstract terms, let's talk about specific terms.
Here's a video walk through of our finishing shop as of 5:00 PM EST yesterday. (We affectionately refer to it as "The Big Shop" )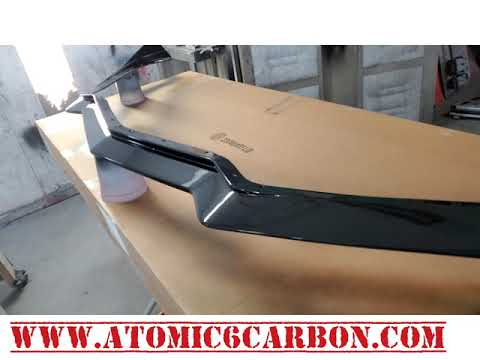 ***Our Factory style parts (winged skirts and splitters) are usually a 1 to 2 week lead time. They are currently sitting at a 2 to 3 week lead time, give or take a week.
***Our wingless v2.0 splitters and skirts are typically 2 to 3 weeks and are now 3 to 4
***Our V3.0 No-drilling-required side skirts are approximately 2 to 4 week lead times.
***Carbon Fiber we specifically use has become almost unobtanium
These lead times will all cycle back down to 1 to 2 weeks once we can get the supply chain back in order (we've received some positive reassurances from our main suppliers about THEIR inventory levels) and we've interviewed/made offers to several candidates to plug into the system.
The soonest they can start is the 3rd week of June. (15th and 17th respectively)
So, we're here, the office is full of parts, those parts are shipping as fast as possible and daily, and we're making new and always-awesome stuff every day, so hang in there and we'll all get through this together!
As always, if you need us for anything, please email is at
[email protected]
(you can also DM us via Instagram @atomicsixcarbon)
Thanks for the support, because without you all, one of this would be possible!!!
Love,
The Management