How & Why The ME's Aero Probably Will Differ (though of course some elements will remain)...
Aerodynamic efficiency, as we all know, is critical for a sports cars
performance
. As is its importance for best fuel mileage, less wind noise and least wind-buffeting.
The C7 generation did an outstanding job in not just the car's basic aero efficiency, but additionally as the model's progressed more toward performance versions, adding in a bigger splitter (some with vertical endplates), side skirts, and spoilers of increasing size.
Cornering became more and more excellent, as did accelerating out of a corner!
And then came the ZR1's low and big wing version for even more downforce and less drag, with the ZR1 specifically changing from the Z06's fixed, near vertical large deck spoiler (which some called an "efficient air dam" when downforce was alone considered), to the low or high wing substitute, with generated greater downforce and again with much less drag — a
wonderful improvement
Typical aero add on exterior components not just aid in cornering and add downforce, but to the degree that the pre-ZR1 C7's grew larger and larger aero appendages, they add however one negative,
drag
. As an example, the coefficient of drag (Cd) increased from a entry C7 of around .31, to a Z-51 of about .33, to a Z06 stage one of .34, and finally to a stage 3 Z06 having a .35. Of course as Cd increases, fuel mileage drops. As a personal example, when I added the rear spoiler center wickerbill to my stage 2 Z06, I "lost" about one mile per gallon highway.
Let look at what we know could be a specific ME
aero system program if chooses to implement an
active aero system
(partially or in full). Specifically,
GM filed a patent in March, 2017, for an active aero system. While most doubt that we will see such a
complete
system in the 2020 first year ME, many active aero system components could follow in 2021 and later, as higher and higher performance ME versions are introduced. Thank you CorvetteBlogger for finding and sharing this GM filed Corvette active aero patent.
https://www.midenginecorvetteforum.c...re-active-aero
What else might we see for the ME's aero systems? What ones would be a significant change from the sharp-edged, exterior body "add -ons" of that type used on the C7 generation?
Of course, we do not have any definitive answers, but based on what other brands of ME's have been recently using for their aero components, we think that there is a likelihood of the Corvette ME incorporating many of the aero components listed in this second section of this thread.
Here are representative videos of aero components found first on 2015, Ferrari 488 GTB, then in second video, those on the brand new 2018 Ferrari Pista (Pista means "track" in Italian).
488 GTB:
Ferrari Pista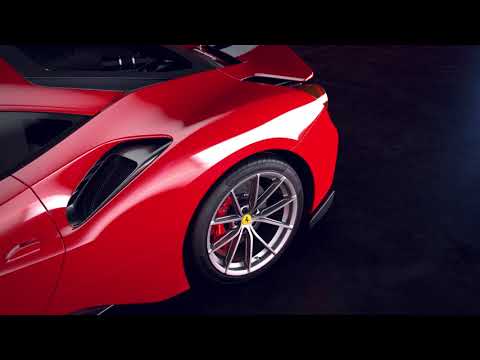 Could we find some of those Ferrari aero components
integrated into the Corvette 2020 ME's actual body panels
? And might also similar "underbody optimized vortex generators" being standard? And underbody flat panels? All, of these
for sure!
The major consequences we could well see with the ME's aero components compared to the C7 generations, would be not just the critically-improved,
better downforce with less drag
consequences, but a very visually different look car. Specifically, we probably would see "smoother" looking, integrated aero components rather than those of the C7's high performance versions (with the latter C7's progressively larger, sharp-edged, sticking out from the body aero components).
Exciting times ahead for the ME even in just the aero area!