Meet Kirk Bennion! Kirk is far more than a designer, for he is a multi-talent, varied interest person. While the initial image design for the C7 Stingray was done by Hwasup Lee, after the entire Detroit Corvette design team huddled, Kirk was the one who did the final design of the Stingray.
This spring I read an article about Kirk in Runner's World; you can also see him on the golf course (a passionate golfer); or you could spent time with him while he is your instructor in a Corvette high performance driving school; and/or see him flying buy on one of his HP motorcycles.
Picture/article credit to, and thanks to Runner's World:
https://www.runnersworld.com/runners...ast-off-track/
Where is Kirk most often seen within his GM work world? In the GM two wind tunnels, working on fine tuning the minute interactions between visual design and function aerodynamics...
Kirk spent over 100 hours within the wind tunnel on the Stingray's development, then moved to the Z06, the GS, and then spent over 100 hours within GM's two wind tunnels just on the ZR1's aero (source =Tadge). What we can easily imagine, is that the last year or two, his working on critical aero and design development for the 2020+ mid engine.
His experience with GM goes back to 1986, when he was fortunately assigned to work in the Corvette division. He has been with GM ever since. We almost always see him at the NCM April BASH, not just giving presentations, but always readily available to anyone, 1-to-1, who wishes to walk up to him, ask him questions, etc.
My most memorable interchange with him was 1 1/2 years ago, when on a early morning he was standing outside, coincidentally inside a sort of triangle composed of a Stingray, a Z06 and a Grand Sport. I was the only other person around and started out by saying, "Kirk, I am not asking for any comment, but you kicked it with these three C7's. They are outstanding. I sure hope that you similarly go bold on the next generation Corvette. He smiled his typical wry smile and said, "
John, I can assure you of two things, that there will be a next generation Corvette at some time, and it will not be boring."
Based on the spy pictures, the CAD drawings and the renderings we are seeing, we know it will be an exciting car.
For those who have not yet had the privilege of meeting or seeing Kir in action, here is a joint 2013 BASH presentation he and Tom Peters, Director of Exterior Design GM Performance Studio (Kirk's "boss") made about the C7's design. It is worth watching every bit of it, but it you just wish to start with Kirk's part of the presentation, please start at 21:25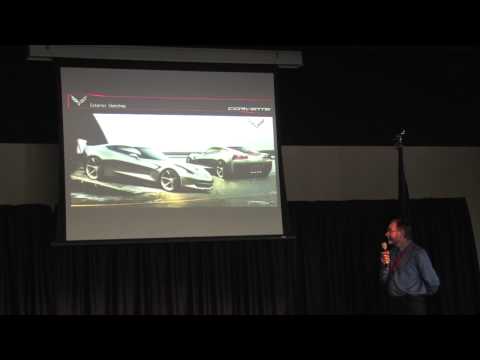 We are so fortunate to have Kirk's expressive in the development of the C8!
If you did not see our last week's thread on the C8 Performance Manager, Alex MacDonald:
https://www.midenginecorvetteforum.c...rmance-manager
Next weekend I will again haven another similar thread on a key ME development team leader. It will be about Kai Spande, BGA Plant Manager.