31 of 50 states require a front license plate. Here is a graphic.
GM was soundly criticized by many of its C6 customers when they showed up at the dealership after the PDI, seeing the front license plate protruding-outward from the upper part of the front fascia. To say it looked like hell, would be a compliment.
However, GM totally listened to its customers' input, and in the C7 came up with an elegant solution for mounting the front plate, both looking nice for the 19 states that do not require one, yet for the 31 states that do so, creating an easily-installable and/or later "removable without visual consequence," front mounting plate option.
How the C7 accomplished this was via a front plate license plate mounting system, an "aero cover," here explained to Keith Cornett of CorvetteBlogger at NAIAS, literally right during 1.13.13 Reveal event, by C7 Chief Exterior Designer Kirk Bennion. Of particular importance in this 2:00 video, is Kirk's noting first, that the front aero cover for the license plate mounting system is,
except for track usage,
more efficient than without it, and second, his noting the it attaches/detaches
very
readily without drilling any holes in the fascia. Good job GM!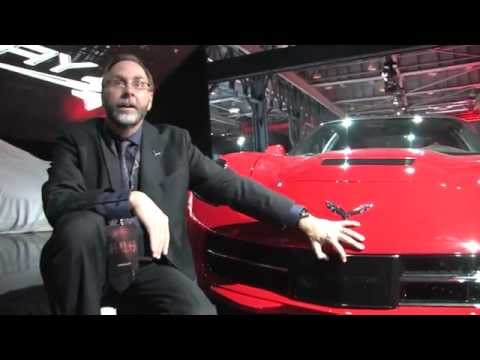 How might the 2020 mid engine Corvette deal with both the 19 states that do not require a front plate, and separately, the 31 states which do — having a functional and reasonably aesthetic solution for both?
The ME's front fascia looks like this, with its very noticeable wide open grill (as shown in the following picture taken within BGA by a temporary worker during last fall's 13 week Plant gut-n-rebuild).
Yet, all the ME mules pictures we have been seeing, include what appears to be a massive front center grille insert, probably or partially to accomodate a license plate holder.
Which first led
fvs
to rendering this as how the ME would look like without a front license plate.
Without going out on a limb, especially since the four ME's at the 'Ring all had the center grille insert, is that for most, and maybe all, 2020 Corvette track applications, the front plate insert mounting system is designed to
not impede air flow, to not interfere with necessary vehicle cooling.
Predicting further, consistent with the 2014 Stingray's and later CD7's, the front aero plate mounting system will not be factory installed, but shipped in the trunk for PDI or later customer chosen usage (or not).
And consequently, for those in the 31 states,
fvs
created the following rendering to help us conceptualize how this would look.
Thank you very much fvs!