What did the C7 offer us as to interior color selections, and might that help us predict what the C8's Interior color selection might be?
History:
Offering the C7's exact interior colors (not just your primary choice) you wanted was a challenge, needing good customer smarts and an informed salesperson too. Color decisions of course included the not just the seat color, but also effected, often varying with the different trim levels, the amount and location of the colored leather, suede and vinyl pieces on the dashboard, the door cards, the console, the steering wheel, and the shift boot. And mainly painfully remember that different color carpeting was mandated based on your primary interior color option — and no flexibility there even with a $590 "color override" option. We also remember that without that color override selection, we could not get every interior color with every exterior color.
Throughout the C7 generation, we were offered 5 different interior color options. And with colored stitching becoming an option mid-gen, as well as suede vs leather choices in certain trim configurations, collectively one of the most challenging decisions for many C7's buyers was learning about the different colors, options and interplay of what was available, and secondly, how to choose the exact seat options code to get what you wanted.
Here is the 2019 interior color chart:
Here is what the 2019 seat chart looks like.
For those who choose to order their cars, choosing one's interior started with intensive study. For those who go the NCM Bash in April to help them learn how to select their options, including their interiors, who can forget the excellent yearly presentations by Ryan Vaughan, Chief Interior Designer, characteristics by his Power Point presentations, and his bringing actual leather production color swatches to help us all see for ourselves what the colors really look like up close and personal. Here is just one of tens and tens of his PowerPoint screens showing us all the many variations we had (and had to choose from if we ordered) for our C7's.
Thankfully Ryan was always available afterwards to help all answer their individual questions, and without him, not sure that my wife and I would have been to make the choices we did. Since he was promoted this Spring to a lead role in GM China, we hope his successor is there to similarly guide us at next April's BASH.
Starting at 26:00 in this video, is the 2013 presentation on "Color and Trim" options the C7 offered us.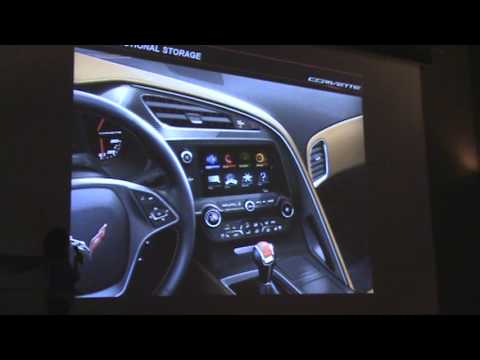 C8 Interior Colors:
We know no specifics, but again believe that like the C7 gen, GM will offer us 5 different interior colors for the C8. If nothing else, they will not want to be seen as reducing choices for the ME, especially as many of the ME's competition offer quite an array of interior color and other options.
100% guessing here, but based on C7's purchasing patterns, as chosen by its buyers, we will again likely see the following ME color choices.
Black
Red
Gray
Kalahari
Color # 5 (???)
And could those color choices again change at different times during the C8 generation, i.e., many of us fondly remember "Brownstone."
I am further guessing that we will have C8 interior stitching options as we did for certain colors for our C7's?
What would you like to see as the 5th interior color for the ME?