I found the C7's seats really good. Not perfect, but even on our 600+ mile days, our backs feel good at the end of the day (not bad considering my wife and I were both 67 when we started owning our C7).
Before we look forward to the C8 seats, let's look back at the historical and major improvements from the C6 seats to the C7's; what was great about the C7's seats and/or had improved from the C6's; and, what some wished were even better addressed with the C7's seats.
History:
The C7's seats can best be summarized by a Car and Driver article and a separate video:
Originally posted by caranddriver
https://www.caranddriver.com/feature...ements-feature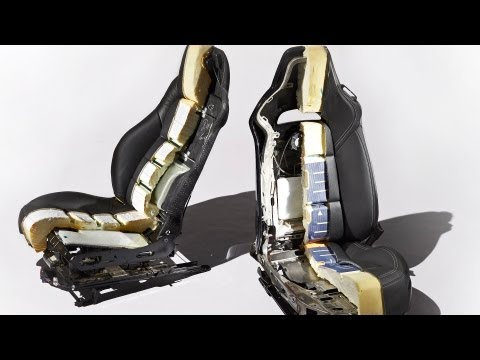 The C6 seats were poor, and compared to them, the C7's were vastly improved — including a shift from the C6 offering only one seat option, to the C7's offering both a GT and a Comp seat.
However, and we know GM has been paying attention to this repeated seat feedback ever since early in the C7's 2014 debut, there were the following issues that
some
C7 owners experienced:
* Offered in the 2/3 level interiors, the seat heaters take too long to heat up, and even after a long time, the heating capability was/is marginal;
* Also offered in the 2/3 level interiors only, the seats were never cooled per see, though with their three small fans, they blow
cabin
air temperature through both the seat bottom and the seat back. Many wished for true cooling as in their other GM, and in their other brand vehicles — though of course that would have been at a major weight penalty, and already each of the C7's seats each weighed 9 pounds more than the C6's;
* Even with the Comp Seats, some track aficionados, but especially true racers, felt that the side bolstering was insufficient;
* Conversely for some who ordered the Comp Seats, while all loved their gorgeous visible carbon fiber bow ties, they felt that seat-back side bolsters were too narrow, too confining, especially in the shoulder area even at their widest extension (but try and reconcile that with the opposite feelings of many track racers noted immediately above);
* Some felt that the Comp Seats bottom padding was too firm — but then again for track use, to prevent submarining under high G loads, firm padding was/is needed;
* More than a few larger/muscle-ly folks felt that the side bolsters on the seat-bottoms on both the GT and the Comp seats were too narrow/confining.
Putting all those comments and earlier facts above into perspective, the C7 seats were a massive improvement over the C6's, and while some of the above criticisms were valid for some individuals with their unique body proportions, many were/are very pleased with their C7 seats.
C8 Seats: What Do We Know?
Close to nothing. We only know that GM listens, and balancing feedback of some C7 users with cost and weight factors, they will try and improve the C7 seats within those realistic, yet confining parameters, making the C8 seats better.
We can conjecture that since the C7 had two different seats, and even at $2K the Comp Seats' take rate was greater than GM originally projected, that it is likely we will see two different seat options for the C8. Just do not think GM will go backwards to only offer one seat for the ME, for among customer satisfaction issues and profit issues, GM needs to project the like most exotics, that they are giving us two different seat options.
Further predicting, it is likely that just as GM offered a 1LT seat with fewer adjustments, and without seat ventilation and seat heating, it is again likely that the ME will offer both a entry 1LT seat and a more advanced, 2/3 LT seat with those and perhaps other enhancements.
For those who did not take the time to view the above video, I encourage you to double back and to view it.