Blackwing is available in the CT5-V. But not in some other CT5's.
Originally posted by gmauthority
This Is Not The Cadillac CT5-V Prototype
Earlier this month,
we spotted a peculiar CT5 test mule
that we believed to be a prototype of the upcoming Cadillac CT5-V. But now, new information has surfaced that tells us that the model in question is not the CT5-V.
According to a source familiar with
future Cadillac
product plans, the model we mistook for a Cadillac CT5-V prototype is actually a CT5 550T in Sport trim. The sighting is notable, since this is the first time we've ever seen the new Cadillac CT5 550T Sport in the flesh.
Cadillac
did not to bring such a model to the New York International Auto Show earlier this year, instead showing the new
CT5
in the 350T Sport and 550T Premium Luxury trim levels. In fact, Cadillac has not officially shared any information about the model in question. According to our sources, that's because the vehicle has not yet completed development.
http://gmauthority.com/blog/2019/05/...5-v-prototype/
The CT5 350T models are powered by GM's new turbo-charged 2.0L
LSY
TriPower engine
making 237 horsepower and 258 pound-feet of torque, while CT5 550T models cradle the twin-turbo 3.0L V-6
LGY
engine making 335 horsepower and 400 pound-feet of torque. The 350 and 550 names are part of Cadillac's recently-
introduced nomenclature
that denotes the respective engine's torque figure in newton meters, rounded up to the nearest 50.
2.0L Turbo LSY I4
CT5 350T Luxury
CT5 350T Premium Luxury
CT5 350T Sport
N/A
3.0L Twin-Turbo LGY V6
N/A
CT5 550T Premium Luxury
CT5 550T Sport
N/A
4.2L Twin-Turbo V8
N/A
N/A
N/A
CT5-V
The Cadillac CT5 550T Sport is the most recent example to adopt
Caddy's new Y Trim level strategy
. The new naming convention creates a clear distinction between various sub-models of the same vehicle to cater to different styling and equipment preferences. First introduced on the
2019 Cadillac XT4
and
2019 Cadillac CT6
refresh, the Y Trim level strategy branches into Premium and Platinum trims for comfort and luxury models, and Sport and V-Series trims for more sporty offerings, with more aggressive styling enhancements and less chrome body detailing in favor of a darker theme.
Depending on the model line, some Sport trim models also get unique performance hardware. That seems to be the case with this model, as those air intakes at the front – in place of the signature vertical light bars – suggest that this Cadillac CT5 Sport 550T will feature advanced brake cooling. It's unclear if the model will ship without the vertical light bars. In addition, notice the quad exhaust outlets out back. By comparison, the CT5 550T Premium Luxury features a set of dual exhaust outlets.
And that leads us to a somewhat more important realization: this Cadillac CT5 550T Sport is essentially an indirect successor to the V-Sport sub-brand, which
Cadillac is discontinuing
. V-Sport, offered on the CTS and XTS, was an intermediate performance trim level that slotted below Cadillac's full-out V-Series models, such as the CTS-V. As such, the CT5 550T Sport model will slot under the upcoming CT5-V in the CT5 model hierarchy.
Meanwhile, we were also told that the CT5-V IVER (Integrated Vehicle Engineering Release – GM speak for a prototype in its final stages of engineering) has yet to make an appearance as a prototype. When it does, it'll have all the upgrades expected of a V-Series model, such as new wheels, wide and sticky tires, and large brakes.
In fact, the CT5-V should be similar to the
CT5-V test mule
we spotted late last year, which at the time was using the same top hat (body) as the current
CTS-V
, along with bits of tape and other small pieces of cladding used to compensate for changes in dimensions from the third-gen CTS.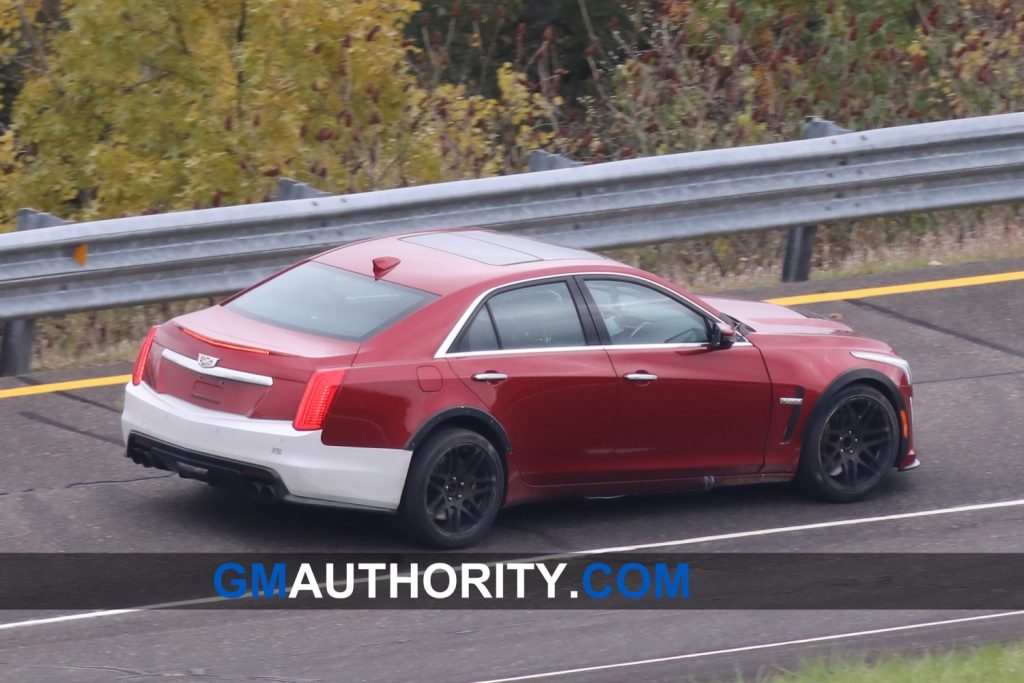 A Cadillac CT5-V mule with the body of the third-gen CTS-V
It's still unclear
what engine will power the CT5-V
, but two of the most obvious choices are GM's supercharged 6.2L V8 Small Block
LT4
found in the outgoing third-generation CTS-V or a version of the twin-turbocharged 4.2L V8
LTA
Blackwing
that powers the
Cadillac CT6-V
.
The Cadillac CT5-V will
debut on May 30th
alongside the smaller
CT4
-V, which GM Authority will be on hand to cover. In fact, we might get a look at the CT5 550T Sport at the same announcement.