Kai is the best of the best, a 28 year GM engineer and manager who in his spare time, dating from his many decades ago frame-off restoring his 1966
Corvette, and still to to this day his loving fast cars, boats, snowmobiles and more, is a
TRUE GEARHEAD — found in his garage every second he can.
I am so fortunate to call Kai a personal friend. He is the nicest person, the smartest manager, yet not afraid to shake up the apple cart when he feels it is needed. He is currently also a Director of the NCM Board of Directors.
As we know of $900M of BGA plant upgrades has been done the last three years, is it any wonder that GM choose Kai to take over as BGA's Plant Manager as he was just then finishing up a $1,400,000,000 GM plant upgrade in Germany. GM's top management picked Kai for that any many other appropriate reasons!
Here is a great,
so worthwhile to watch,
older video that gives you a feel of who is he. For those of you who have not yet met him, your great next opportunity will be this April NCM's Bash, and then again at the end of the 2019 National Corvette Caravan for the NCM 25th Anniversary.
Here are two screen prints from that video, including one of Kai do a frame off restoration of his Stingray while recovering from a severe knee injury. It is a
wonderful video
to watch!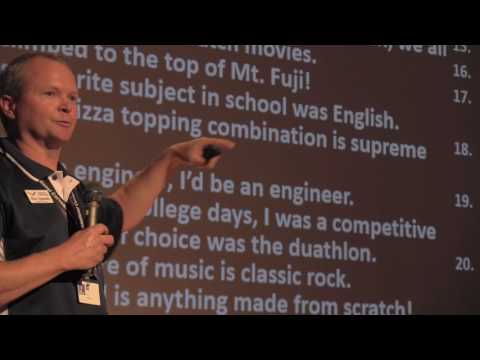 Here is an older interview our Jeremy Welborn ("jagamajajaran"), another friend of Kai's had with Kai. While again older, we thank Kai and Jeremy for the following fun interchange.
Originally posted by JeremyWelborn
"It will take a passion for people, planning, and project development to make the Corvette the #1 sports car in the world! I'm on board!" - Kai Spande, April, 2016
Kai Spande took the Bowling Green Assembly (BGA) Plant Manager reigns from Jeff Lamarche during the National Corvette Museum's (NCM) 21st Anniversary Celebration in September, 2015. Approximately eight months later, during the NCM's April "Birthday Bash," I had the opportunity to spend time with Kai on several occasions, and can say with absolute confidence that the BGA is in highly capable hands.
Kai grew up in Iowa and graduated from Northern Iowa University with a degree in Industrial Technology. His first job with GM came in 1991 and he has been with GM ever since. Twelve GM positions have landed Kai and his family in Michigan, Ohio, New York, Japan, and most recently, Germany. His role in Germany was Director of European Powertrain Test Facilities.
During the NCM's "Meet the New Plant Manager" session, Kai shared a lot of information about himself and his family. For those who have wondered, his given name is Kai and is Norwegian. He loves carrot cake, any type of power sports (boating, snowmobiling, cars), has climbed to the top of Mt. Fuji (at night so he could watch the sunrise), enjoys classic rock and snow skiing, and particularly likes having evenings and weekends free now so he can spend more time with his wife and two teenage children.
Kai's first Corvette was a 1978 Silver Anniversary. After that, he took on the restoration of a 1965 big-block roadster followed by a 1969 L71, Le Mans Blue, 435hp, numbers-matching coupe. The last Corvette Kai owned was a 1999 Corvette, but he wound up selling it when children entered the family picture. His most recent project has been a 1937 Chevy street rod with a Chevy small-block, 700R4 transmission, Ford 9-inch rear, four-link suspension, power rack and pinion steering, aftermarket chassis, and a show quality paint job. Kai did all of the work himself, the only exception being the paint job, over a period of about 10 years.
Following the "Meet the New Plant Manager" session at the NCM, I had the privilege of sitting down with Kai for a "one-on-one" to ask him more specific questions about his role as the Bowling Green Assembly Plant Manager.
JEREMY - Now that you regularly drive new Corvettes, what are your personal impressions?
KAI - The time that I've spent the most significant experience was when I was on the race track with the Z06/Z07 and my impression is pretty clear. And, in a very humble way, the car is a lot more of a car than Kai is a driver. I was with an instructor. I watched him drive. I see myself drive...and the car is so unbelievably capable in the right hands and I have a lot to learn. It's just unbelievable. You ride in that car with somebody that knows how to run the machine and it's like a musical instrument. It's awesome!
JEREMY - You said if you ordered your own, you would order a Z06/Z07 package, like the C7.R, in black. Would you build the engine yourself?
KAI - Absolutely! It's unbelievable. Step aside, I'm coming in! I would build the engine myself. Honestly, if I built the car I was going to keep, I would build the engine and I would take a day off and chase that car down the line and I would drive everybody insane. They would be, "Get out of here and let us do our job."
JEREMY - The buyer's tour is fantastic, and I hope the plan is to continue to offer the buyer's tours.
KAI - Yes, and additionally, we have a new RPO that is going to come out where you can build your engine and get your car delivered within a few days, which logistically, I'll just say, is a super challenge, because three weeks before the car is built we start sequencing everything for the car. We're going to try to thread the needle, get the engine done, and tomorrow we're going to put it in the car. And that's risky. But we believe the customer would like it.
JEREMY - Besides the obvious customer experience that is tied to your work with the Corvette plant, in what ways is your work here different from other plants you have worked in?
KAI - This is my first vehicle plant. I've worked in components plants. I've worked in engine plants. I was in Romulus, which also had the umbrella of Wixom. I've worked in our headquarters' operation and Germany was a kind of headquarters type of product engineering. The transition for me was one of ease because Nora Roper was my assistant plant manager when I was in Romulus. The GSC or Global Supply Chain...the logistics guy...worked for me when I was in Saginaw, Michigan. The controller, Helen Bradley, also worked for me in a different place. So I came in and half the people on my staff had worked for me in their functions in a previous time. That helped a lot. From a technology standpoint, I had something to learn within and around the vehicle. But we also have so many common systems and processes, quality systems, HR, people systems, safety systems, all of these things. I have an ME background, so I understand how built stuff works. For me, it's kind of another puzzle that was just so fun. Just a little bit of a story about Chuck Valentini, our paint shop and body shop guy. These are the two areas of the plant that are very process driven. This is, you know, it can't go together any other way than this way. In the assembly area, you can mix things around. In these areas, when I came in with my background, these guys started talking, "Ok, you know, A+B=C," and I looked at them and I said, "Hey, you can get off the 101. You can get up to the 202 and the 303 because I understand everything you're talking about. From where I came, body shop and paint was my background, even in castings. It's chemistry, it's pressure, it's all these things." I can quickly get into that groove.
JEREMY - What accomplishments thus far are you most proud of as plant manager? What are the things that you feel at this point you have accomplished?
KAI - I call them my fingerprints. What has Kai's fingerprints on it from start to finish. There's a lot of things that I'm involved with on a daily basis. It's the ongoing grind. But from a customer's standpoint, from just the right thing to do, I'll give you two examples. Number one, we're making all of the LT4s here, period. Number two, we have moved the tour operations to the museum and that puts it in the hands of an organization that is designed to be professional in that regard. Those are two things that I take personal responsibility for. The impetus came from me because of my background.
JEREMY - You've said that maintaining quality is key to maintaining the sweet spot of demand. That's an ongoing process, but how have you contributed to improving quality? What are the areas you've already improved and what are the things you're working towards improving?
KAI - This may not be the best example, but I will give it to you as an example. As we discussed in the presentation today, quality is extremely difficult for an operation like we have. The key is culture and the key is data and the dedication to and deliberate analysis of the data which is also part of the culture and they all come together. And I would say that because of the experience base that I have in our Performance Build Center (PBC), the powertrain background, I have raised expectations regarding what we could, should, and will do in this area. I'm also very happy to say that the organization is extremely receptive to the new ideas even to the point where we have what we call "walls." It's a structured collage of information that we display for anybody to see. Now we've built this structured wall from a quality standpoint for our PBC so we know all of the customer facing and internal quality issues and supplier issues. Quality issues always come from three sources: from engineering, base design, and from suppliers. They give us something that we don't necessarily want or we mess something up somehow in our plan. So we have all of those in place now for our PBC which I think will get better. The other thing, from a vehicle standpoint, is we have started a plan where we are visiting, and I lead by example in this case, suppliers that we think have the most opportunity to make improvement measured by how many times they have caused a problem. We've formally said we have a process to recognize that, how many scrap parts that we might have had, etc. There's a number of channels that come into that. It's the same issue with our PBC. You must look at that information. You must digest that information. You must analyze it and determine where you're going to spend your resources. In this case, we need to get up sometimes and leave Bowling Green and go see the suppliers and talk to them. Many times what we see is that our understanding and expectations exceed the capability of some of our suppliers. They don't understand the sophistication of what you could or should do. You're bringing the fishing pole to the "we want fish" discussion and we can teach them and then bring them into our plant where we have symposiums and teach them about how we manage our quality. We have them walk the line with us. "This is why that causes us a problem." I mean it's not necessarily immediate, but the light bulbs start coming on. And it sends a message again..this cultural component. We care, we're measuring it, and this is what we would expect, this is what we would like. You have to have this culture and then you have to back it with science and then you have to determine what you're going to do and then you have to go do it.
JEREMY - Is there more emphasis on quality with the workers on the line?
KAI - What we have is our Global Manufacturing System, what we call GMS. It's what I described in the material that we discuss before every individual has a job. We have, in the course of this month, because of our UAW contract last year, brought in 200 new people out of the 620 production people. We have 25% new people and I am unbelievably excited and proud of the fact that we've brought this many new people in and we've done it with what we call "No blip." No quality problems. And arguably, when we went through this process, which was very structured, we even made productivity improvements and quality improvements. It's a huge test of the system because it's not you and I who have done this job forever. We're taking somebody kind of "off the street"...it's not as easy as that...but we're testing our system, can it withstand. If you don't have that system and process documented to the Nth degree, then you don't have a chance. And, when you have new eyes come in and look at it, they'll tell you, "that doesn't make sense, this should be here or there," and then you have a chance to improve it.
JEREMY - You told us that the paint shop is progressing on schedule. So there haven't been any real challenges at this point?
KAI - We have been doing some simultaneous engineering as it relates to the development of all of the processes. And that's natural with this kind of project. We don't wait until the engineering is perfect before we get started. So any of the things that we came up with are improvements based on the refinement of our systems and processes. We do a lot of simulation, guaranteeing that the throughput is going to be where it needs to be and process simulations to assure that we have enough time and space and what level of redundancies we want. All of these things are on the engineering checklist and we're pleased with our ability to get it done.
JEREMY - What is your vision for what the new paint shop facility will do for the Corvette brand and image?
KAI - I'm preaching to the choir here, but the number one concern that we had three years ago was with paint. It is not the number one concern that we have now. The mass of issues has gone significantly down. It's never going to be perfect paint. But my expectation is that we have a step function in the overall appearance of the Corvette. I believe personally that this is going to draw customers that may not have considered the Corvette in the past into the game. There are people, maybe it's not you and maybe it's not me, but we do have people that it doesn't matter what car they can have...they can have anything and they decide based on design or appearance. If they put our car next to a 458 or a 911 and it doesn't match or improve and get better, we're going to get better. Look at our cars that are non-Corvette. We're getting better. Look at the product that's going to come out of Flint. It's better.
JEREMY - Everyone wants to know about future Corvette product offerings. Because I know you want to keep your job, I'm not going to ask you about this.
KAI - If I asked you what you think is going to happen with future products, I might get a lesson too.
JEREMY - I understand. Everybody knows that there is a process and a plan and that they are always working on future product development.
KAI - You get it!"
Interview reproduced with approval of Jeremy.