A tribute to Dave Hill! Happy Birthday. I hope to see and talk with you next at the C8's reveal.
Dave Hill as almost all know, was the Chief C5 Engineer and the early C6's, including my beloved C6 Z06. Loved its 3,132 weight, for Dave was a Corvette weight reducing fanatic.
I had a wonderful first meeting with Dave, one which gives good insight into his character and his never ending drive for improving our Corvettes.
Above article thanks to the National Corvette Museum. He is a video about why Dave deservedly in in the NCM Hall of Fame!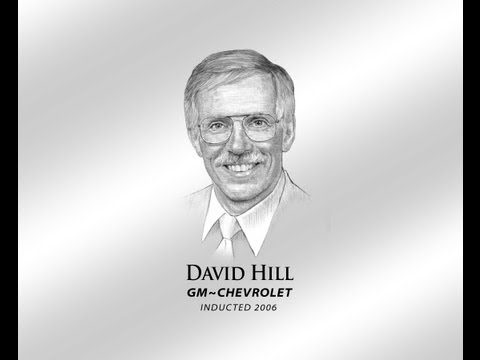 A personal story about Dave Hill's view on how to improve Corvettes. It was new 1998, and we had just gotten our first Corvette (family and kids always came first for me), and after waiting over 35 years from my first sighting/first ride in a 1963 split window, my wonderful gearhead wife said to me the night we wrote the last college tuition/room & board check for our youngest child, "You have waited long enough, go buy your long overdue Corvette."
Soon after we were driving it to Corvette Mecca, e.g., Bowling Green's National Corvette Museum. We entered it Show-n-Shine among literally thousands of other Corvettes, and were later shocked to learn our car was one of the twenty picked for the "Circle of Honor" tomorrow-morning display-of the winners at the Circle.
Shocked!!!
The next morning, we were finishing detailing a few minutes before the official stuff started, and a person we instantly recognized as Dave Hill, came over to our car and the following conversation ensued.
Dave: "Congratualtions. Beautiful car. I love your wheels. I see from your window plaque that this is your first Corvette. May I please ask you some questions?
I am always looking for first time customers. Please tell me what you do not like about the car, what we need to do better."
John (totally shocked, for is he really asking me what I think???): " Well, I love X, and I love Y; we drove here from Oregon, got over 30 MPG, and this is a
great road car.
"
Dave (after listening politely), gently stopped me and said, "I am not interested in what you like, instead much more as what we need to do better." What are the three things I need to work on first? [He had a concentrating look on his face and I realized he was dead serious that he wanted to know what needed to be improved.]
John: "The factory 'wagon wheels' look terrible, looking as if they belong on a pickup truck."
Dave: I immediately saw you have great look Fikse wheels. I love those, know that they are LeMans rated to 200 MPH. They are
really nice looking.
I too do not like the stock wheels; I lost the battle of the wheels to the 'bean counters,' but they have assured me if C5 sales continue at the current, for the 2020 model year I can have the wheels I and my customers want." [And he absolutely succeeded two years later.]
John: Second, the carpeting in the hatch area is cheap looking, and if we do not brush it correctly, you can see its light colored backing at the base of the fibers."
Dave: "I did not know that;
please
show me." And as I did, he said, "that is not acceptable, and will be fixed next year — sooner if I can. John, t
hank you!
What else needs fixing?"
John: "The dash and the door cards are a 'sea of non-attractive, black, flat-grain plastic'."
Dave: "I agree again, but no money yet to improve it, but at least give it my best, to improve it if I can as soon as possible.
Thank you John for telling me the truth, for I don't often get it; people sugar coat or skim over what they are really thinking. You as a not bashful first time Corvette owner , is exactly the honest feedback I need to hear. Thank you again.
*****
That was my introduction to Dave Hill, and we still have fun talking when we see each other at some major Corvette events, including ones after Dave retirement. Again, I hope to see Dave next at the C8's reveal!