(remember, clicking on an image will open it full size)
Here is a very informative video by Top Gear Magazine's Jack Rix to walk you around the mad 250mph McLaren Speedtail with its
three seats
(driver sits in the center!), stratospheric top speed and a price tag that's similarly out of this world.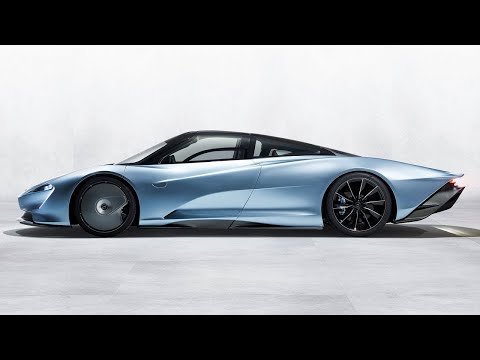 And his write-up:
Sleek, isn't it? Long and low and lean and, well, sleek. A streamliner. This is it, the McLaren Speedtail, the car formerly known as BP23 and likely forever known as the spiritual successor to the F1. Three seats, stratospheric top speed and a price tag that's similarly out of this world.
Facts, though, have been in short supply. And when we're starved of facts, we feed off myths. The rumour mill spooled up with tales of a 300mph target, of Chiron-beating power, and, to be fair, all we did was fan the flames.
Let's rein in hyperbole and exaggeration right now, because here's what we do know. The McLaren Speedtail will, when deliveries start in early 2020, have cost each of its 106 owners north of £2.1m for a car that boasts 1,036bhp and a 250mph maximum speed. When they do strap themselves into the centre seat, line up on a runway, press the Velocity button above their head and nail the throttle, they'll feel what it's like to accelerate from zero to 186mph in the same time it takes a diesel supermini to hit 60mph.
How is it powered? That still hasn't been fully revealed, but let's start by looking at a broader picture. McLaren likes its Ultimate Series cars to answer questions. Take the Senna, which answers "is it possible to road-legalise racing levels of downforce?". Turns out it is, and nothing else comes close to the 800kg of downward pressure the Senna is able to produce at 150mph. Now we're in the realm of "What if we forgot about downforce and went low-drag instead? Say grand touring was still a thing, what would the ultimate 21st-century GT car look like? What would it be able to do?"
McLaren's leap of faith is that grand touring is still a thing, and that people will want to do it as a threesome. Hyper GT is the pitch; Bugatti Chiron, even if McLaren isn't admitting as much, the target. The Speedtail is about luxury as much as speed. Well, heading that way. We'll come on to talk about the clean lines of the cabin, the tactility of the materials, but first just look at it: the length of the tail, the elegance of those rear lines. It's plain stunning, a shape that treats the air passing over and around it with respect. What air it needs is subtly taken, used as appropriate for combustion or cooling and then calmly reintroduced, before being precisely and delicately detached by the samurai blade tail. At 5.13 metres long, it's 60cm longer than a Chiron, the sweeping carbon cape carrying with it a suggestion of art deco/steampunk Thirties cool. The kind of car the Rocketeer would have driven.
That's the back, at least. The front is more challenging. What initially springs to my mind are mid-Eighties concept cars, stuff such as the MG EX-E, the Lotus Etna. Think it's something to do with the wheelspats and low, low nose. The more I look, the better it gets, though, and I really admire how the intakes and air channels have been hidden away. Still at this end of the car engineering is more important than aesthetics. Design chief Rob Melville describes it as a "comet, with the mass at the front, then this long tail".
He's also interesting about the wheelspats: "Without them, the car would not have been able to deliver on its top speed and acceleration parameters." The spats (which remain static as the wheel rotates) reduce turbulence almost entirely, the air allowed only to escape from the wheelarch through a single notch, smoothing flow. They can be removed, but McLaren suggests you don't. Just think of the brake dust build-up. And did you notice? No exterior mirrors. Instead, pop-out cameras with screens at the base of the A-pillars.
I don't think I've seen a smoother transition from window into roofline – there's no header rail, nothing to delay the air's passage. And how about the cuts at the back of the rear deck? Flexible carbon fibre, moved by hydraulic actuators to adjust the centre of pressure or aid braking stability. We must assume that somewhere in Woking that vast one-piece clamshell is undergoing not just air-proofing, but child-proofing, being continuously flexed, bent and pressurised so that the Speedtail can resist the challenges of Casino Square.
Which, let's face it, is a likely destination. Let's just hope it's been able to use a decent proportion of that 1,036bhp on the way there. No word yet on how that's balanced between combustion engine and e-motor(s), but let's guess 750bhp from the familiar 4.0-litre twin turbo V8 and approaching 300bhp of electric. There's a conventional battery pack, but no plug-in socket. Instead, inductive charging.
Rumour is it won't run on electric alone. Shame. If true, this hybrid will have regressed from the P1. Will electricity still be helping out at high speed? Is there a clever gearing system to allow that? We just don't know, beyond realising that the 1,430kg dry weight (the P1 was 1,395kg) means the battery pack can't be that big.
There are a couple of elephants in the room. Anyone else slightly underwhelmed by the stats? Only 7mph faster than the 25-year old F1, likely no more e-power than the Porsche 918 Spyder, a mere 1,036bhp total when Koenigsegg's Agera RS has a full megawatt (1,341bhp), and the Chiron has 1,479bhp. And 1,650bhp seems the entry point if you want to talk 300mph.
The only stat available so far is 0–186mph in 12.8secs. Bugatti's time is 13.1secs (the Bug might have a hefty power advantage, but it's also getting on for 600kg heavier – the two have near-identical power-to-weight ratios of around 740bhp per tonne). Nothing in it really, but McLaren has confirmed the Speedtail is rear-drive only. It'll be doing well to match the Bug's 2.4-sec 0–62mph time, but might just have caught up by 100mph (4.7secs). Mad enough, however you measure. For reference the F1 took 22.0secs to reach 186mph, the P1 16.5secs. So it's deeply, deeply fast, but not as rapid as the Koenigsegg Agera RS (11.9secs). Bragability is good, but not at levels the F1 enjoyed at launch.