Left some pretty impressive cars in it's rear view mirror……or, camera, as it were…..

By
William Johnson
Posted on May 20, 2023
A highly modified Tesla Model S Plaid, built by Unplugged Performance, has set yet another lap record, but this time, it was on accident.
It is no secret that when it comes to modified Tesla vehicles, few come close to the expertise or success garnered by Unplugged Performance. With their custom suspension and aero-kits, they have been pushing Tesla vehicles to their absolute limit. Now, one of UP's most awarded vehicles, a Model S Plaid nicknamed "Dark Helmet,"
has set yet another lap record
, but this time, it was on accident.
​
Unplugged Performance published the video of the lap record being broken late on Friday, showing off the astounding speed its Model S Plaid has achieved on the Willow Springs raceway in California.
As noted by UP, the Model S Plaid's incredible 1:20.03 lap was potentially the best accident the group could have ever wished for. According to
FastestLaps
, the Tesla crushed its nearest competition, a highly modified Porsche 911 GT2 RS, by over a second. Other top performers beat by Dark Helmet include a Dodge Viper ACR Mark V, a McLaren 720S, a Lamborghini Huracán Performante, and a Porsche 918 Spider, just to name a few.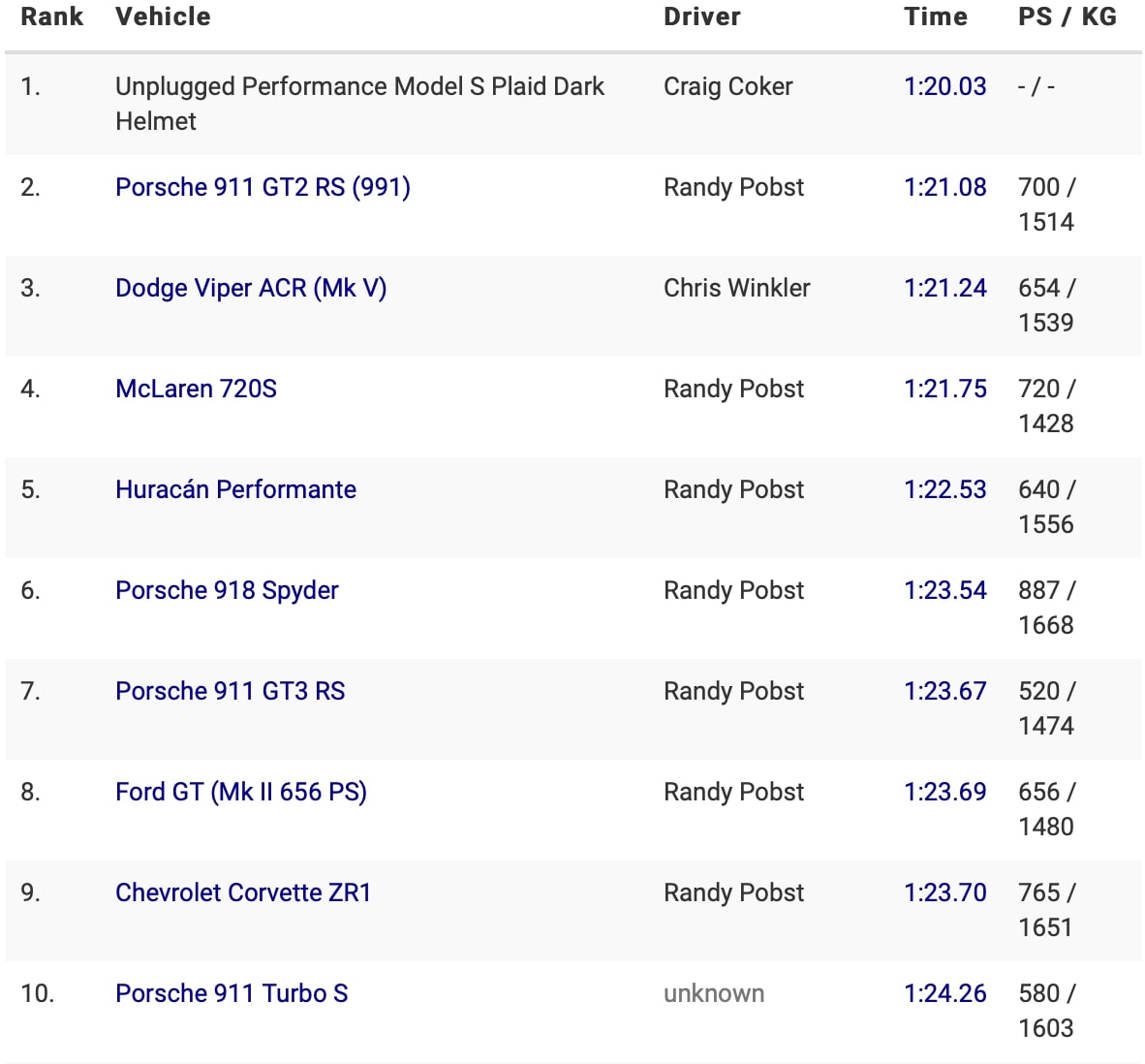 Credit: FastestLap
In a comment to
Teslarati
, Unplugged Performance notes that the lap record was achieved during a Pikes Peak testing lap. "The record lap was the 3rd hot lap during this testing session which began with an already heat-soaked battery," UP notes. "It is easy to see the car has more potential left in it."
This is certainly
not the first time UP's Tesla Model S Plaid has secured a lap record
, and it isn't even the first time we have coved it. Since the build began, the Dark Helmet build alone has secured lap records at Willow Springs, Pikes Peak, Button Willow, and Laguna Seca just to name a few.
The Dark Helmet build is
one of UP's most track-ready vehicles
they currently operate. Besides the stripped interior, which has been fitted with a race-prepped roll cage, the car has been equipped with UP's most advanced suspension setups to date, an incredible set of carbon ceramic brakes, and numerous carbon fiber components.
​