Paint Preparation/Correction/Protection: Even A Brand New Car
These are the steps and products I use on a new car. There are tons of other high-quality alternative methods and products. It takes me about two days to do it the way I am describing. Others can sure do it quicker. So, FWIW, here is a start for consideration.
The astute reader will note some inconsistency at to which nano ceramic was used. On my Corvette, exclusively CQuartz Finest by a professional installer; on my daily drivers, I was self taught, and successfully used Wolfgang Uber Ceramic (amateur application approved).
The overall steps are identical for either application, and for brand new cars and ones you have owned for a while. I do the complete process even on my daily drivers once every two years.
1) Wash with Dawn Ultra, using new microfiber wash mitt, foam gun for extra paint protection, and the two-bucket wash method (each bucket with grit guard); YouTube videos avail on two-bucket washing.
2) Apply bug and tar removal (IF needed), let soak for several minutes; hose off; dry to 90% with high pressure air hose;
3) Apply Iron X (to remove imbedded iron particles in paint); hose off; dry with air pressure hose to 90%, then only need a few microfibers to gently finish the drying.
For those who doubt that iron particles become imbedded in brand new car's paint, with many new car's arriving that way — especially those vehicles which have gone a a train trip to get to your dealership, below is a video. Every iron particle will turn purple, and my brand new Corvette, after coming across country on the train, looked like it had measles as I did this step.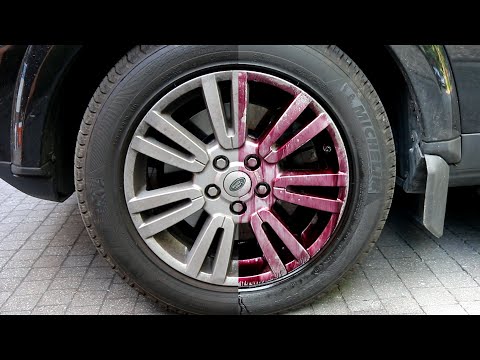 4) Remove "surface bonded contaminants" with Nanoskin Autoscrub Fine mitt, applied with AutoGlide or high quality detailer. Process is very similar to a clay bar but quicker;
5) Wash again (as per # 1 above);
6) Hand polish with Wolfgang Glaze (after "car's sharp edges" and rubber/vinyl next to paint, was automotive-masking-tape protected). I only use "automotive masking tape," either CarPro or 3M's — as regular masking tape can leave hard to remove tape "adhesive." I hand polish using Adam's blue polisher pads:
http://adamspolishes.com/adam-s-blue...pplicator.html
There are many high quality, fine-cut polishes, including Meguiar's # 205, Adam's Blue Revive; Griots Fine Hand Polish.
Unless you are a professional detailer
or
a skilled and experienced amateur, I would only hand polish. Machine polishing is, IMO, risky unless you know exactly what you are doing and are experienced using a machine. If using a machine, get "gentle polishing pads, " not "cutting pads, a gentle DA polishing machine, with a fine-cut polish.
7) Apply Wolfgang Protekt (2X) to 100% of car — to remove all polish and tape residue.
8) Apply nano-ceramic coating -- specifically Wolfang Uber Ceramic (at this time only on the parts of car not to be next-step, clear-bra'd).
Notes: There are many high quality nano ceramic coatings, some for professional application only, others for us amateurs.
A) Watch a bunch of YouTube videos, then watch them over and over;
B) Select your choice of coatings. I selected Wolfgang Uber Ceramic for lots of reasons, one of the primary ones being that it is easy for an amateur to apply and gets great results.
C) Get a quality applicator designed specifically and only for applying a nano ceramic (do not use wax mitt/pads or a massive problem will occur);
D) Apply extremely sparingly as per directions and as per YT videos;
E) Only 100% consistent with temperature limitations (on the product);
F) Only do a 2'X2' panel at a time, and use a bunch of microfibers to immediately, after glazing, remove excess. I have found that the bundle of microfibers (MF')s available at Costco are excellent, for as you are applying a silica product, you
then must every MF discard.
G
) Apply only in ventilation conditions as specifed on the product.
9) Took my car to have front fascia, entire hood, front of front fenders, front air dam/splitter, headlights and front sides of mirrors, all clear bra coated/protected by pro installer, with XPEL (or any other, equivalent, super high quality product);
10) Re-washed after drive home as per # 1; then one week later after clear bra cured, I applied Wolfgang Uber Ceramic on top of XPEL'd areas.
For your consideration:
1) There is a massive difference of opinion even within the professional detailing industry, as to whether you should/should not apply a nano-ceramic UNDER a clear bra.
2) There is a massive difference of opinion even within the professional detailing industry, as to whether you should/should not apply a nano-ceramic OVER a clear bra.
I did not apply the nano ceramic under my clear bra, but did apply it on top of it (so when all was done by pros or me), almost every inch of the extra of my Corvette has been CQuartz Finest. [Note: CQuartz Finest is only available to professional installers, but I have used their amateur version product myself on my daily drivers with excellent results).
Want to see the results? In addition to all the above, my Corvette was initially when new prepped/corrected/protected with CQuartz. Then the picture below shows how it looks, approximately 10,000 miles, 12 states and 18 months
after
the CQuartz Finest and other steps were done. Note please, the car was not waxed, not even once between the initial described process, and what you are seeing, was only washed conventially twice (by me) and detailed about 10,000 times (by me). Not bad... And I credit 99% of its looks to my professional polisher/CQuartz/XPEL installers
Note: Sources for above speciality products include: Amazon, AutoGeek.com, Autopia.com (the latter two both car detailing forums -- with their own internal "product stores") and some products bought at auto parts stores.