This is a fun rev-up to next month's C8.R debut at the Rolex 24. Video below. Funny story occurred when I was at the 10.2 HTC reveal, specifically in the lobby around 5:00 PM before the 6:30 event started. I met Tadge when a walked off the elevator in the lobby, but on the elevator ride down, a lady saw my MECF polo shirt and asked me, "are you part of the Corvette event that took place at Kennedy Space Center today?" I saw no, that I am here to attend the C8's hard top convertible reveal in an hour and a half."
She responded, well I do not know much about Corvettes other than I like them, but when my friends and I were on a bus tour of the Space Center earlier this afternoon, we saw this
super loud race car fly by us on the main runway. I think it was a Corvette."
Running into Tadge two minutes later, after we said hello and talked about the reveal, I told him about the conversation of I had just had in the elevator, and asked, "was that the Stingray HTC on the main runway at the Space Center?"
Of course, he denied that, and he was right as we all learned later during the reveal, for it really was the C8.R — and that was the second major surprise of the night that none of us
yet
knew about. Wow, to hear and see the C8.R during the reveal. What a
treat that also was!
Later that evening around 9:30 PM when all of the media had left but CorvetteBlogger Keith Cornett, with also the top 20 Corvette team members remaining, our having dinner with Tadge, Ed, Harlan and Kirk, I said to Tadge, "you were telling me the truth several hours ago when you said it was not the Stingray HTC racing down on the main runway here." He laughed and with a glint in his eye said, "yes, I was telling the truth, and now you know the whole story."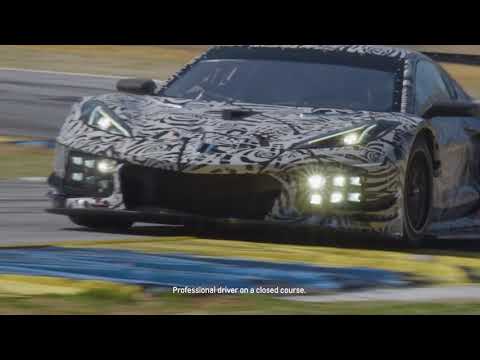 Thanks AutoMotoTV for this fun video. We can't wait to see the C8.R racing next month!