Is there going to be a special, perhaps short duration 2020 refreshed C7 coming? We asked that question earlier, as in:
https://www.midenginecorvetteforum.c...w-'20-c7's
If the C8 is delayed roughly three or maybe more months as more than a few think, might GM to assist in C7 sales bring out a slightly refreshed C7 as a 2020 model. Here is the first visual evidence that that could be a
remote
possibiliy? What is new and different in this picture to me is this very large center wickerbill attached to a standard Stingray spoiler. Might this be something GM is testing that is part of a 2020 slightly changed 2020 Stingray.
Accompanying this group was Chief Corvette Vehicle Performance Manager Alex MacDonald.
If you have not seen the short video of the five C8's testing with this C7, here it is: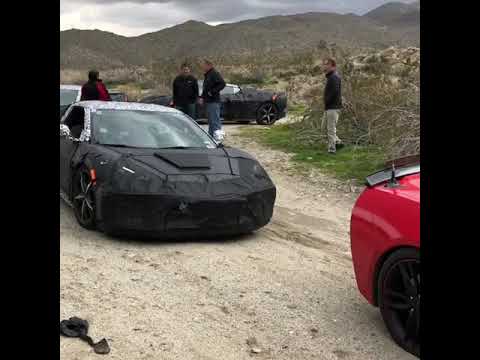 With more about this video in this thread:
https://www.midenginecorvetteforum.c...o-corvette_nut